After a long hiatus, Season 4 of Comedy Central's hilarious female-centric comedy Broad City will be blessing all of our screens again on Wednesday. If you haven't already fallen in love with the antics of Abbi Abrams and Ilana Wexler (played by showrunners and creators Abbi Jacobson and Ilana Glazer), it's time you did. With three fantastic seasons under their belts already, Jacobson and Glazer are undoubtedly sitting proudly at the top of the TV comedy game, only adding to the ever-growing list of awesome lady-centric shows on the air right now, like The Mindy Project, Grace and Frankie and Crazy Ex-Girlfriend.
More: If You're Not Watching Broad City, You're Missing Out. Here's Why.
With quick wit, a refusal to shy away from hot-button issues and strong feminist storylines, Broad City is must-watch TV for all women, young and old. If you haven't already seen the first three seasons, here are seven reasons why you should get binging before the Season 4 premiere.
1. It's one of the funniest shows on TV
Before we can even touch on all of the awesome feminist moments from the first three seasons of Broad City, we need to talk about how undeniably hilarious this show is. It's an indisputable fact that Jacobson and Glazer are two of the funniest ladies on TV right now. Take, for example, the moment Ilana ignored her seriously dangerous shellfish allergy at her birthday dinner:

Or when we found out about Abbi's jazzy alter ego, Val:

Honestly, there's nothing like it.
2. Abbi and Ilana are like a modern-day Lucy and Ethel
Part of what makes Abbi and Ilana such great characters is their perfect chemistry on screen, which is reminiscent of the relationship Lucy and Ethel had on I Love Lucy. It's hard not to compare them to the iconic duo, especially since one of them is wacky and free-spirited (Ilana/Lucy) and the other is more level-headed (Abbi/Ethel). Some parallels just draw themselves!
More: The Best Female BFFs in Film & TV
3. They are sex-positive
One of the best things about Broad City is the show's insistence on normalizing the sexuality of young women, something that is often either fetishized or demonized. Both Abbi and Ilana are sexually active, and they aren't shy about talking and joking about their sex lives. For example, Abbi's new experience using sex toys with her cute neighbor Jeremy in Season 1 helped break the stigma against women taking control in the bedroom.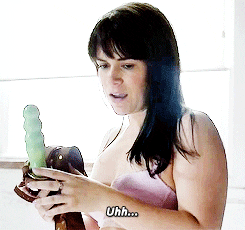 Ilana's unabashedness about her fluid sexuality and her open relationship with Lincoln (played by Hannibal Buress) help create an example for the pride young women should have in their sexualities. This normalization is super important since most women are taught from a young age that their sexuality is something to be ashamed of.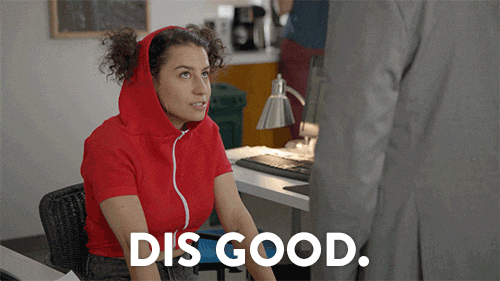 4. They emphasize the importance of strong female friendships
Abbi and Ilana's friendship is the definition of #squadgoals. They love and support each other unconditionally, but they're also not afraid to call each other out when one of them is being problematic or is about to make a big mistake. Now more than ever, it's so important for women to stick together and hold each other up, and the gals of Broad City show how rewarding friendships between women can be.
And honestly, there's nothing cuter or funnier than their video chats.
5. They're not afraid to get political
Anyone who says that comedians should stay out of politics should take several seats and watch a few episodes of Broad City. Jacobson and Glazer, who are both very politically active in their personal lives, are not shy about their views, and they're not scared to bring those views into their TV show. During the 2016 presidential campaign, Broad City aired an episode that openly endorsed Democratic candidate Hillary Clinton (and even got her to do a cameo on the show!).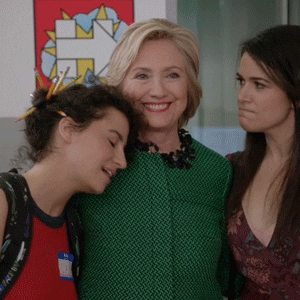 Jacobson and Glazer have said that they won't be holding anything back in the newest season of Broad City, revealing that when it's used, President Trump's name will be bleeped out like a curse word. But that's not all — Comedy Central President Kent Alterman said that there is "no other reaction to the election" like what Jacobson and Glazer have done with Season 4.
More: Broad City Will Bleep President Trump's Name for the Greater Good
6. Two words: Girl power
In what is definitely one of the most iconic moments of Broad City so far, Abbi and Ilana are told to smile by a man on the streets of New York, and their reaction is perfect.
This is just one example of how Broad City elevates the importance of owning your strength as a woman with humor. Jacobson and Glazer blend art and resistance together seamlessly with Broad City, and it's amazing. These ladies are making it even cooler to be badass feminist heroines, and we are so here for it.
More: Broad City: Feminism 101, According to Abbi & Ilana
7. Jacobson and Glazer are bosses IRL, too
These #GirlBosses don't just reserve their awesomeness for the silver screen; both Jacobson and Glazer have full, active lives outside of Broad City, and they are killing it.
Glazer has been featured on 2 Dope Queens, a hilarious podcast hosted by Jessica Williams and Phoebe Robinson, and she hosts her own podcast with Robinson called Sooo Many White Guys. She also recently starred alongside Scarlett Johannsen and Kate McKinnon in Rough Night.
Jacobson, who is as artistic as her character on Broad City, designed and published two coloring books, Color This Book: New York City and Color This Book: San Francisco. She also recently wrote and illustrated Carry This Book, which hilariously imagines what the contents of different celebrities' bags would be. Like Glazer, Jacobson has also found her way into the world of podcasting, and she recently hosted a series of fine art podcasts with WNYC Studios called A Piece of Work that are currently being featured on the Museum of Modern Art's website.
Can I get a "yas, queen"? If these reasons aren't enough to get you to watch Broad City, then I'm not sure what would be.