In 1997, the boy band 98 Degrees first arrived on the music scene. It only seems appropriate to celebrate the band's 20-year anniversary by looking back on what the guys were doing at that exact moment in their lives. Really, it's the perfect nostalgia.
It's hard to believe it's been two decades since Jeff Timmons, Justin Jeffre and brothers Nick and Drew Lachey began serenading fans — and stealing their hearts in the process. When the single "Invisible Man" hit the radio, well, 98 Degrees had made it big time. It was a catchy song that put the band on the map. From that point, the singers' lives were changed drastically. They became extremely famous, were considered heartthrobs and found themselves competing against the Backstreet Boys and *NSYNC.
98 Degrees will always be one of the best '90s boy bands, so let's honor them by walking down memory lane with Nick, Drew, Jeff and Justin and looking at what they were doing in '97.
More: Ready to Feel Old? These Are All the 2017 Pop Culture Anniversaries Coming Up
1. Dressing really badly

Like every other boy band to have ever existed, 98 Degrees will never not be made fun of for their poor wardrobe choices.
2. Making their fans swoon
They immediately garnered a slew of fans, who of course couldn't help but scream with excitement in their presence. Yes, these really are 98 Degrees fans.
3. Releasing unforgettable music

Justin really did know how to do an intro.
4. Making their first video

So cheesy, yet so wonderful.
5. Dating former Real Housewives stars
For those unaware, Nick used to date Real Housewives of Orange County's Lizzie Rovsek. It's unclear if they dated in 1997, but Rovsek told Andy Cohen in July 2014 that she dated the singer before and after Jessica Simpson. Seeing as Nick and Simpson began dating around 1999, there's probably a good chance Nick and Rovsek were an item between 1997 and 1998.
More: Jessica Simpson Whips Out a Chicken of the Sea Joke for Whole Foods
6. Finding their manager, thanks to Montell Jordan

That's right. While backstage at a Montell Jordan concert, the band found a manager through the "This Is How We Do It" artist. Later on, they ended up performing a few times with Jordan, and one of Jordan's dancers passed 98 Degrees' demo to the Motown label, who they eventually signed with.
7. Giving interviews with tiny sunglasses
Nick, what are those sunglasses? Can you even see out of them?
8. Saying things like this
In this interview reportedly from 1997, Justin says around the 1:54 mark, "We are all very, very single — and looking for love." Yeah, that happened.
9. Living the jersey life
You know a boy band made it when they all were spotted wearing athletic jerseys.
10. Appearing on Jenny Jones

Early on in their career, they even performed on the classic Jenny Jones Show. Let's give them a round of applause for that huge accomplishment.
More: 11 Reasons '90s Boy Bands Are Infinitely Better Than Today's Boy Bands
11. Being super dramatic
This GIF from "Invisible Man" is proof that there is nothing more over-the-top than a music video from a '90s boy band.
12. Making single covers like this
Happy 20th anniversary to the song that got all are hearts Invisible Man @98official @NickLachey @JeffTimmons @DrewLachey @JustinJeffre xoxo pic.twitter.com/kFstluXUrD

— Jenny Druer (@Mrsdruer) June 25, 2017

The matching leather jackets! The matching outfits! The sepia tones! There is so much goodness in this one photo.
13. Making their album and single covers the same
#ThrowbackThursday to @98official 1st album. When I heard #InvisibleMan on radio, I was hooked & rushed out to buy this album!❤️ #98Degrees pic.twitter.com/UaEk0Ctus6

— Ella🌷 (@Ella8112) April 13, 2017

Why not use the same exact image for both your single and album covers, but make the small change of sepia vs. blue tones? Also, be sure to take note of Jeff's mustache.
14. Cruising around in this
This is not what you drive around in if you're trying to avoid mobs.
15. Quickly learning how to coordinate outfits
Happy #WaybackWednesday from 90's NOW! It's the one and only #98Degrees, who first broke onto the scene back in 1997. pic.twitter.com/Xu1hVbDIhh

— 90's NOW (@90sNOWfm) October 26, 2016

Who knows if this picture is from 1997, but matching outfits quickly became 98 Degrees' thing — just like every other boy band.
16. Recording songs that sound like bad pickup lines
On the band's first self-titled album, they had songs titled "You Are Everything," "Heaven's Missing an Angel" and "Come and Get It," which sound like lines they might say to hit on someone at a bar.
More: Even the Biggest Backstreet Boys Fans Probably Never Knew These 15 Facts
17. Entering the spotlight even more
Feels like it's 98 degrees outside. pic.twitter.com/aPaXBQchVn

— Seth Evans (@sethevans) June 17, 2017

So much so, they ended up taking pictures like this — and getting tattoos they possibly regret.
18. Becoming even bigger heartthrobs

This image may or may not be from 1997, but as they became more famous, 98 Degrees became even hotter in the eyes of their biggest fans. Raise your hand if you enjoyed seeing the guys shirtless every now and again.
19. Slowly becoming this

This particular Instagram photo shows exactly how far they've come in 20 years.
20. And growing into an unforgettable boy band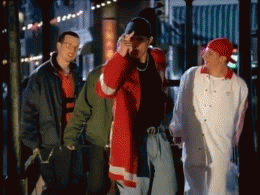 98 Degrees, thank you for the memories.