Time to put another tally on the board of "obvious things that should happen but don't happen enough": Emma Stone candidly discussed her experiences with pay inequality in Hollywood. What makes her comments on equal pay interesting is that she believes her male co-stars should take pay cuts in order to level that playing field for her and other women in their field.
More: The Gender Discrimination Emma Stone Faced in Film Is, Well, Laughable
While it's generally known that female actors in Hollywood don't make as much as their male co-stars, Stone, a recent Oscar winner, opened up in an interview with Out magazine about her experiences thus far and what it means for the fight for equal pay in Hollywood to continue.
When the topic surfaced during Stone's interview about her upcoming film, Battle of the Sexes, she elaborated on the way in which actors are given salary quotes before they sign on to a film. Those quotes are a kind of ground zero for where equal pay can begin, she said, because male actors have the chance to cut that quote down in order to give female actors a more level playing field.
More: Emma Stone & Andrew Garfield's Relationship Is a La La Land Love Story IRL
"In my career so far, I've needed my male co-stars to take a pay cut so that I may have parity with them," Stone said. "And that's something they do for me because they feel it's what's right and fair. That's something that's also not discussed, necessarily — that our getting equal pay is going to require people to selflessly say, 'That's what's fair.' If my male co-star, who has a higher quote than me but believes we are equal, takes a pay cut so that I can match him, that changes my quote in the future and changes my life.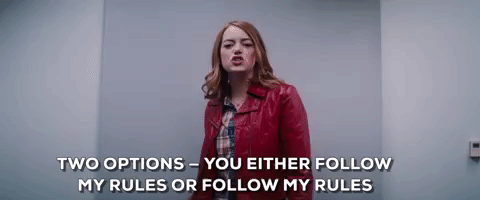 "It's not about, 'Women are this and men are that,'" Stone continued. "It is, 'We are all the same, we are all equal, we all deserve the same respect and the same rights.' And that's really what I've been so grateful for with male co-stars — when I've been in a similar-size role in films, and it's been multiple people who have been really incredible and said, 'That's what I want to do. That's what's fair and what's right.'"
While it's an exciting step forward for Stone's career, the same can't be said for her other female co-stars. Even Stone's co-star in Battle of the Sexes, Andrea Riseborough, mentioned in the same interview that she has "never had the experience of a guy taking any sort of pay cut."
More: All the Times We Wished Emma Stone & Ryan Gosling Were a Couple IRL
In Stone's newest film, she portrays legendary tennis player and boundary breaker Billie Jean King. Her comments on the issue of equality in her contemporary workplace echo the kind of equality that King fought for on the tennis court and that is dramatized in Battle of the Sexes.
As history seems to repeat itself, Stone gives the impression that men need to meet women halfway on this issue. It's radical to ask more men to take a pay cut in order to even the playing field for equal pay, but maybe we could make progress on this issue with a radical notion like that.