Jumanji is back! Is every '90s kid in the world squealing and jumping around like I am right now? You guys, Jumanji is back!
More: The Baywatch Movie Will Be Barely Recognizable to Fans of the Show
The new iteration of the classic is updated a little bit; it involves a video game instead of a board game this time. In the first Jumanji: Welcome to the Jungle trailer, we see four high school kids stumble upon the game during detention and decide to start playing only to find themselves sucked into the jungle universe in which Jumanji takes place. They also become their avatars, played by Dwayne "The Rock" Johnson, Kevin Hart, Jack Black and Karen Gillan.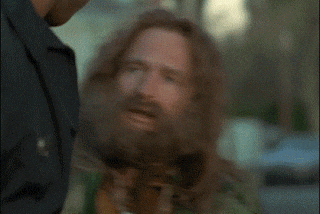 The first trailer for the movie is out, and Johnson so kindly shared it on Twitter so we can all live in our nostalgia for a minute and also get hella psyched about the new Jumanji, which is set to hit theaters on Christmas Day.
EXCLUSIVE: @JumanjiMovie trailer! I smolder, have cool super powers & try not to cry when I'm scared. #TheLegendContinues #Jumanji DEC 20 🎅🏾 pic.twitter.com/8W6L5ijCwj

— Dwayne Johnson (@TheRock) June 29, 2017

More: Ever Wonder How Dwayne Johnson Lost His Virginity? Today's Your Lucky Day
The trailer shows that the meek, nerdy Spencer gets transformed in Johnson, but still struggles with not crying when he gets scared in the jungle, because hello, the jungle is a scary place. I mean, if those mosquitoes from the first Jumanji are anywhere around, I would totally cry — I'm not even ashamed to admit it.
Meanwhile, the pretty, popular girl is transformed into Black and has to grapple with the fact that she now inhabits "an overweight middle-aged man" bod. Gillan's character asks the very pointed question, "Why am I wearing half a shirt and short shorts in the jungle?" and every girl who has ever played video games will probably applaud at that trope being called out.
More: Dwayne Johnson May Have Just Crushed Our 2020 Presidential Dreams
If Jumanji: Welcome to the Jungle wants to live up to the legend that was the original, it has big shoes to fill. Based on that trailer, it looks like the writers have put enough of a new spin on the story to make this a fun, original way to revisit the Jumanji universe, which means we're totally into it.