Did you know Netflix's new hit show GLOW was actually inspired by a real TV show from the late '80s called GLOW: Gorgeous Ladies Of Wrestling? Don't worry. We didn't either, and we've been questioning how we've gone our whole lives not knowing this existed.
More: Everything You Need to Know About GLOW, Because It's Going to Be Awesome
Netflix's GLOW and the real-life GLOW have very similar DNA, but names have been changed as well as the location and the events depicted in the show. For example, both TV shows have all-female casts of mostly actors who turn up to a casting call for a new kind of television show. Also in both TV shows, the women take up far-out stage names and adopt larger-than-life personas they put to good use in the ring. But of course, things like names had to be changed (for example, Marc Maron's character, clearly modeled after GLOW's real-life director Matt Cimber, is named Sam Sylva) and Netflix moved the location of their show to Los Angeles, whereas the real-life GLOW was shot in Las Vegas.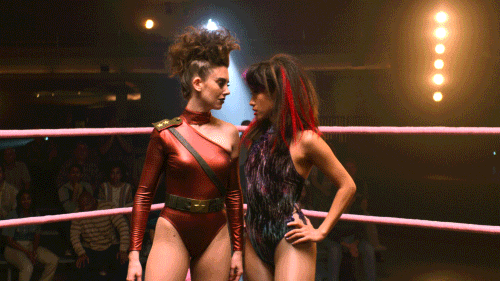 More: Does Netflix's Newest Film To the Bone Represent or Romanticize Eating Disorders?
As Entertainment Tonight reported, GLOW was an unintentional success, spawning a massive fandom and legit breaking down barriers of how women could look, move, and express themselves on television. They beat the other wrestling shows in their ratings and were both kid-friendly as well as grown-up friendly. In the Gorgeous Ladies of Wrestling documentary, many of the women recall getting totally lost in their characters; they even had to call their fellow lady wrestlers by their stage names or risk getting fined by their managers. But they all seem to recall those days so fondly.
While the women of GLOW are older now and in careers outside of wrestling or performing, their great wrestling days are forever memorialized on television. The women, who were aspiring actors looking for their big break, ended up creating something bigger and more meaningful than they could ever imagine.
Without further ado, here are the real ladies who inspired GLOW.
Dee Booher, aka "Matilda the Hun"
In the GLOW documentary, Booher — known as Matilda the Hun in the ring back in the day — is a real firecracker; it's clear to see that even though time and aging have prevented her from continuing to wrestle, she will always have a passion for it.
Ursula Hayden, aka "Babe the Farmer's Daughter"
Hayden made a name for herself playing the girl-next-door-type on GLOW as Babe the Farmer's Daughter. The wrestling bug must have bitten her hard because Hayden continues to run various GLOW-related projects and served as a consultant on the Netflix adaptation of the show.
Jeanne Basone & Janet Bowers, aka "Hollywood" & "Vine"
Emily Dole, aka "Mt. Fiji"
The former athlete was a prominent one before her thriving career on GLOW. She went through the Olympic trials and she is a former track and field star. In the GLOW documentary, Dole is regarded warmly for her ability to be both kind and powerful. These days, she maintains a quiet and private life.
Lisa Moretti, aka "Tina Ferrari"
Before graduating to the WWE and becoming well-known as the formidable wrestler Ivory, Moretti was known as Tina Ferrari. She currently makes appearances for certain GLOW and WWE events but has officially retired from wrestling.
Dawn Rice, aka "Godiva"
Godiva, played by Dawn Rice, was a beautiful British wrestler who took down the other GLOW characters with grace and poise. Although she no longer works as a wrestler, viewers of the GLOW documentary will learn that Rice "works in ministry as a mentor and community outreach leader."
Tracy Meltzer, aka "Roxy Astor"
Meltzer, known as Roxy Astor on GLOW, currently still competes as a wrestler after making a name for herself on GLOW.
Still curious to know what the real GLOW was like? Take a look for yourself.
The GLOW opening credits say it all

The GLOW opening credits gave fans a proper introduction to the gorgeous ladies who would smack down in the ring and crack us all up in their skits.
They were actors as well as wrestlers

Sure, many of these women were not wrestlers by trade, but they really transformed into wrestlers as time went on. Luckily, their transformations didn't erase all of that charming and quirky acting talent many of the women had. Check out some of these super-cheesy (but kinda totally awesome) skits that the GLOW women also got to perform for the show.
More: Stranger Things Spoilers Are (Kind of) Here
The GLOW rap is truly wonderful

This is a rap that should truly go down in history. For a special episode, each wrestler was given the spotlight to rap a verse about their own wrestling persona. These are a total hoot.
If you're curiosity is still super-piqued, you can check out the very first GLOW episode here. Just looking at these clips alone, it's clear to see GLOW was way, way ahead of its time.