The day has finally arrived. Witness is here and demanding our attention. I must admit, from the first moment I listened, I quickly realized Katy Perry is dropping a lot of shady shade on us listeners with the lyrics she's singing. This means that million-dollar question is, "Who is she actually singing about on Witness?" Sure, there are lots of receipts, lots of sub-tweeting and lots of mystery about who the "you" in any particular song might be, but who are these people exactly?
More: Petty Genius Taylor Swift Rereleased All Her Music on Katy Perry's Big Day
Perry has attracted a lot of attention for her comments about her ongoing feud with Taylor Swift, but make no mistake. She's taking aim at a fair number of people on Witness. Be they as specific as Swift or simply vague, shadowy figures, Perry's coming for ya via Witness; you'd better watch out.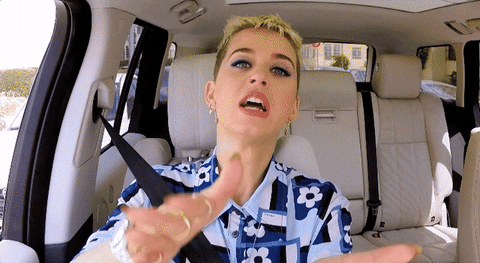 "Witness"
This is not a shady dedication at all, but Perry appears to be singing to her fans or those who are close to her. The eponymous track on Witness is all about Perry asking someone to stick by her side, act as her witness through the good things and the bad; sounds like a big ask that only die-hard fans or family could follow through on.
"Hey Hey Hey"
This song is a huge kiss-off to someone that Perry clearly feels targeted by. She sings to a man who seems to discount her because she's ultra-feminine yet tough as fuck. Maybe she's singing to her ex-husband Russell Brand? It's a distinct possibility.
"Roulette"
"Roulette" is all about taking a break, unwinding and practicing a bit of self-care while trying not to fall too hard for the fuckboy who's blowing up your phone on a Friday night. Perry is clearly throwing shade at those guys who are trying to waste your time, but acknowledges it is super-tempting to want to cozy up next to them.
"Swish Swish"
I mean, Perry never outwardly said it was about Taylor Swift, but it's generally accepted that shade is being paid in full toward the singer.
"Déjà Vu"
This may be more blatantly about Brand, especially with the opening lyrics: "I still live off the echoes of your 'I love you's / But I still feel all the blows from your 'Don't want to's / When you're drunk, you say I'm the one / Then you wake up." This could be a reference to Brand's past substance abuse, but overall, these opening lines clearly hint at an ex who had a powerful hold on Perry's heart.
More: Katy Perry's Thoughts on Ending Her Feud With Taylor Swift Are Confusing
"Power"
There are no two ways about it. Perry is giving two big middle fingers to the misogynistic patriarchy in "Power," and the song is all the better for it.
"Mind Maze"
While not exactly sung to a specific person, "Mind Maze" is a trippy song about finding your way in the world.
"Miss You More"
The Brand-related songs continue with "Miss You More." Definitely speaking about the idea of a relationship that could have been, about being filled with memories of an ex that are very overwhelming. If it isn't about Brand, there's a slim chance she could be pointing the finger at old flame John Mayer, although that's a bit of a reach too.
"Chained to the Rhythm"
Perry is absolutely shading our government and the authoritarian forces that be with "Chained to the Rhythm." These looming powers are trying to control us all, but she's not about to sit back and let it happen; she's going to sing about it.
"Tsunami"
Perry is singing to her boo, whomever that may be, and it sounds like she's ready get super-sexy with this new lover. If you consider this song was likely recorded while Perry was still dating actor Orlando Bloom, it might very well be about him.
"Bon Appétit"
High-key this one is all about Bloom, without a doubt.
"Bigger Than Me"
Perry is most likely singing about herself, to herself, as she contemplates her place in the world and how she's committed to making a real difference in the world.
"Save As Draft"
This wistful breakup song is applicable to any of Perry's exes, namely Brand and Bloom.
More: Katy Perry's Vanity Temporarily Blinds Her From Making Good Judgment Calls
"Pendulum"
Perry is most likely singing to her fans as she tells them to live their truths and not let life knock them down. Hell, yes.
"Into Me You See"
Singing to those people who have come into her life who changed her for the better, like her brother David (pictured), Perry closes her epic album with this tender thank you ballad.