The Bravo rumor mill is spinning out of control, and it's all because of Lisa Vanderpump. We all know that Vanderpump, star of Real Housewives of Beverly Hills and Vanderpump Rules, is basically reality show royalty at this point. But would Vanderpump really leave RHOBH, the show that brought her into the limelight?
More: Dear RHOBH Producers: Lisa Vanderpump's Return Isn't Enough to Improve the Show
Vanderpump recently spoke with The Sun Online about the upcoming RHOBH Season 8 lineup. "Nothing has been decided yet for Season 8," she told The Sun. "I'm still in the middle of Vanderpump Rules and I need to see if I have the time to film both shows and also run the dog centre."
More: It's Pretty Clear Lisa Vanderpump Isn't RHOBH's No. 1 Fan
That basically sounds like a confession that she's on the fence. Can you believe it? I mean, yes. Vanderpump has discussed leaving the show before this, though it wasn't because she was busy. It was mostly because the prior season had been so cruel to her that she just didn't think she could do it anymore.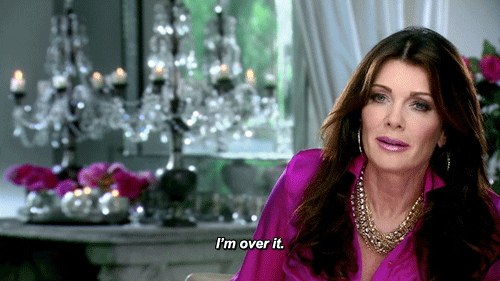 Could this be a career-fatal combination of a busy lifestyle and not being able to deal? In her talk with The Sun, Vanderpump also added that Season 7 was "brutal" and that the feuds had gotten serious and that "throwing accusations out there can sully someone's reputation."
More: Lisa Vanderpump Says What Everyone's Thinking About Stassi Schroeder
Honestly, I get it. Vanderpump is a hardworking, badass woman ruling an empire she and Bravo built from scratch. I mean, she stars in her own spinoff and continues to work on her dog business. Would it be so surprising if she were over it all at this point?
While the RHOBH Season 8 lineup hasn't officially come out yet, we'll be patiently waiting for any kind of Vanderpump news and crossing our fingers that she's happy with any decision she makes.