Supernatural's Crowley Really Isn't Coming Back, & I Can't Deal
May 25, 2017 at 11:00 a.m. ET
The King of Hell is no more. You read that right, Supernatural's Mark Sheppard will not be a series regular in Season 13, TVLine confirmed Wednesday.
More: Supernatural Season 12 Finale Photos Are Call for Concern
It's definitely disheartening to hear that Sheppard will not be back as a regular. He's been such a huge part of The CW series since Season 5. What makes his exit even more upsetting is that this just might mean Crowley really is dead.
The Season 12 finale killed off seven characters, including Crowley. It wasn't entirely clear if Crowley was truly dead after he sacrificed himself in an attempt to take down Lucifer and save Sam and Dean. Based on this casting news, it sure seems like he is definitely dead.
Then again, this is Supernatural, so there's always a chance that Crowley can rise from the dead at any point in time. Just because Sheppard won't be a series regular come Season 13 doesn't mean he'll never be on the series ever again. I have a feeling at some point he'll show up — or I just really hope he does, because how can there be Supernatural without Crowley?
All that said, it sounds like this is what Sheppard wants. He confirmed his departure via Instagram on Tuesday. Next to an image of a T-shirt with Crowley's face and the saying, "Even When I Lose, I Win," the actor wrote, "A 'fitting' end to season 12. I wrote this line to sum up the feeling behind the finale. Surprise, surprise, it was cut. Seems so appropriate now!"
He shared a second photo of himself wearing the T-shirt Tuesday and captioned it, "So to all my #spnfamily everywhere... my crew and my fellow storytellers... thanks for the ride. Time for something new. Even when I lose..."
More: Supernatural's Mary Finally Comes to Her Senses, but It May Be Too Late
Crowley will certainly be missed. I'm having quite a difficult time coming to terms with Sheppard's exit, so allow these GIFs to explain how I'm feeling.
1. So many feelings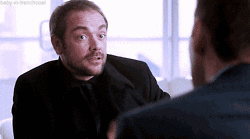 Really, allow me to tell you.
2. Just pure shock
How is this happening?
3. Everyone, listen to me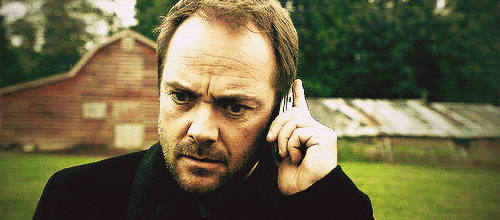 This is me calling everyone I know telling them how upset I am.
4. So many tears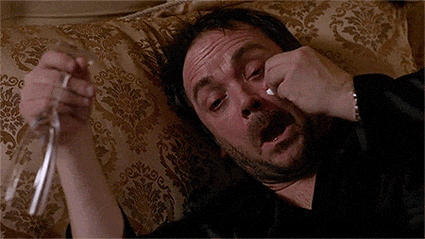 Give me all of the tissues.
More: Supernatural's [SPOILER] Probably Isn't Dead, & All Thanks to a Rat
5. Ignorance is bliss
Maybe if I just ignore the news, it won't really be true?
6. Nobody can escape this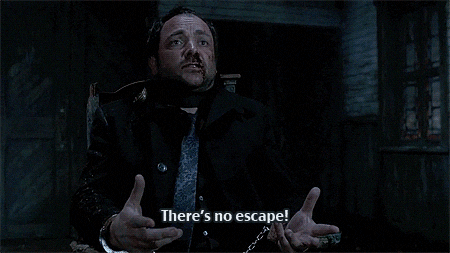 This really is happening.
7. Threats help some
Probably not the best way to channel my anger.
8. The love is real
Crowley, you will forever be in my heart.
More: Supernatural's Castiel Under Baby Lucifer's Spell Marks a Dark Future
Supernatural returns to The CW in the fall.