Simone Biles is literally a national treasure, as all of the athletes that band our collective American spirits together are when they go battle it out on the global stage every two years. But Biles, along with the rest of the gymnast superstars, the nicknamed Fab Five, were different last summer. They put sisterhood on the world's stage — as well as shaking the stereotype that paints young women as silly and trivial as opposed to the deeply strong and powerful reality of young womanhood.
More: Why Al Trautwig's comments about Simone Biles' family were a colossal fail
So no surprise here that Biles continues to bring us strength and feminism as she continues her path as a celebrity and athlete. She is now taking her turn on Dancing with the Stars, which is honestly the only time I've heard of someone doing that show where it sounds really cool and appropriate rather than a desperate career-revival move. We all saw what that girl can do on some bars and beams. I absolutely want to see her dance.
But you know what we don't care if she does or not? Smile.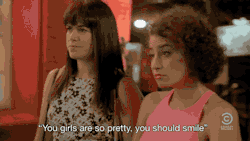 After a fierce, take-no-prisoners routine on Monday night's episode, the Olympian was asked by host Tom Bergeron — who is clearly about 15 years behind on what dudes should never, ever say to women — why she wasn't smiling in response to the judge's praise. Here's a hint: She just got done dancing her ass off, is winded, probably slightly overwhelmed and on camera — but her answer was even better. Biles said with a big grin, "Smiling doesn't win you gold medals."
More: Gymnast Simone Biles will be the Olympics star you can't stop talking about
She maintained her stance in an interview with Entertainment Tonight afterward, saying, "You don't know which wild card of sexy or happy they want you to bring, and you almost have to read their minds and find it… I am trying and I am being honest. But if they don't see that, I don't know what else more I can do."
More: The thing no one is saying about Simone Biles' childhood trauma
You don't need it, but we've got your back, girl.
Do you think Bergeron's question was silly? Tell us in the comments.