Emma Watson's MTV Awards Speech on Gender-Neutral Acting Awards Was Iconic
May 8, 2017 at 8:07 a.m. ET
It was a big night for MTV on Sunday May 7, 2017. One of the big moments for MTV (and award shows across the board) was the first-ever roster of gender-neutral categories. Doing away with old-school notions of a gender binary, MTV's gender-neutral categories allowed for some really exciting new awards to appear on the roster and one exciting breakthrough to be made in the area of acting awards, like Emma Watson's win for Best Actor in a Movie.
More: Emma Watson's Suggestion for a Beauty and the Beast Sequel Is Brilliant
Emma Watson's win for Best Actor seemed a poetic fit in a number of ways. Herself a trailblazer and proponent of gender equality, Watson's place as the first-ever winner of a gender-neutral MTV acting award was another shining moment to tack onto her legacy. The moment was only more monumental because of the fact that Watson's Best Actor acceptance speech was brilliant, a true acknowledgement of the meaningfulness of the award that served as a true highlight of the evening.
Taking to the MTV stage, Watson appeared humbled and happy to be able to accept the award. "Firstly, I feel I have to say something about the award itself," she began. "The first acting award in history that doesn't separate nominees based on their sex says something about how we perceive the human experience." This line got an especially rousing round of applause from the audience, and rightfully so. This is a major, major moment in award history, you guys.
More: Emma Watson Thinks It's Weird You're Sharing Everything on Social Media
Watson went on to eloquently state, "MTV's move to create a genderless award for acting will mean something different to everyone, but to me, it indicates that acting is about the ability to put yourself in someone else's shoes ? and that doesn't need to be separated into two different categories. Empathy and the ability to use your imagination should have no limits."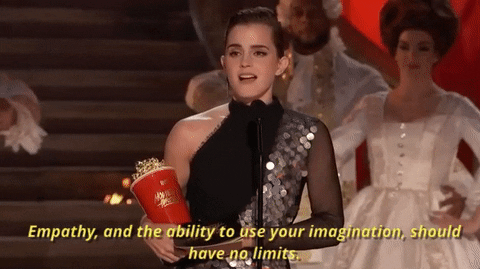 More: Emma Watson Stole a Highly Sought-After Title From Jennifer Lawrence
In my opinion, Watson's speech at the MTV Movie & TV Awards show became iconic right then and there. It was absolutely a well-deserved award for the Beauty and the Beast actor. More important, I hope this gender-neutral win serves as a point of instruction for others award shows going forward. Without the limiting applications of gender to certain categories, award shows could open the door even wider to those actors who deserve and demand our attention who could have been previously excluded from recognition because of regressive gender standards.
Well done, MTV.