It looks like a new leaf is being turned by one of pop music's most colorful and boundary-breaking artists.
More: 51 Powerful Images of Celebrities Supporting the Women's March on Washington
In a new interview with Billboard magazine, Miley Cyrus is no longer smoking weed. In fact, it sounds like Cyrus is cleaning up her act entirely as she works on a new album and recharges her personal and creative batteries. "I used to [resist changing]. But I haven't smoked weed in three weeks, which is the longest I've ever [gone without it]. I'm not doing drugs, I'm not drinking, I'm completely clean right now! That was just something that I wanted to do," Cyrus revealed. What? Is this for real? Is Cyrus actually growing into a more mature woman now?
"It's a brand new start… a dream come true… in Malibu…" Read more about my new music in @billboard https://t.co/wT8FrbvgSW pic.twitter.com/jqcHuJ6tfd

— Miley Ray Cyrus (@MileyCyrus) May 4, 2017

The last few years of Cyrus' public life showed us a major shift from the Disney tween star we were introduced to back in the mid-'00s. Over the last few years, Cyrus has pushed fashion boundaries, professed and publicized her love of smoking weed and become a generally raucous but lovable personality. Who could forget her highly suggestive and hedonistic 2013 MTV VMAs performance? Or what about that time she swung naked on a wrecking ball? It's been a long road for Cyrus, indeed, and one that has profoundly affected the way we've viewed her in the past.
Cyrus reflected on how those antics that made her so well-known were actually, deep down, antithetical to who she truly is as a person. "I was crazy about making the tongue slide work [for the 2013 MTV VMA's]. I was so ­embarrassed to be on the red carpet and so many of those fucking disgusting ­photographers would tell me to blow a kiss, and that's not me! I don't want to blow you a kiss. I didn't know what to do with my face, so I stuck my tongue out, and it became a rebellious, punk-rock thing."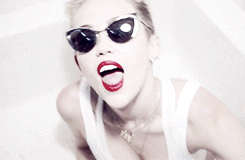 Cyrus even told Billboard that she's ready to move forward and that she's no longer relying on those outlandish antics to make sure her thoughts or messages are heard. "I love talking to people, and I approach them in a normal, 'Don't treat me different, 'cause I'm not' way. That's what started this evolution for me, getting out of my Dead Petz phase," she said, referencing her 2015 album. "People stare at me anyway, but people stare at me a lot when I'm dressed as a fucking cat […] I like talking to people that don't agree with me, but I don't think I can do that in an aggressive way. I don't think those people are going to listen to me when I'm sitting there in nipple pasties, you know?"
https://www.instagram.com/p/BQs-SGABGO5/
She noted that she's ready to really connect with her fans and that she's evolved to the point where she wants to really break down any kind of barriers between her and the people she'd like to reach. She anecdotally connected this idea to her connection with the country music fandom: "The fact that ­country music fans are scared of me, that hurts me. All the ­nipple pastie shit, that's what I did because I felt it was part of my political movement, and that got me to where I am now. I'm evolving, and I surround myself with smart people that are evolved."
More: Miley Cyrus Got a Big Stamp of Approval From Liam Hemsworth's Family This Christmas
Now, it would appear she's ready to make a marked shift once more back to a simpler, less intense shall we say, lifestyle. To see her going into a calmer and more, for lack of a better term, normal and approachable mode of existence is definitely refreshing. I know I've been curious to see what she's been up to the last few months since she's mostly slipped out of the public focus; appearing at the Women's March in LA in January 2017 was perhaps her most notable recent appearance.
https://www.instagram.com/p/BQ6M8Jlh1q5/
More: Miley Cyrus Reminds Us That The Voice Is About More Than Just Singing
Whatever this impending new era in Cyrus' life holds, be it drug-free, happiness-filled and totally musical or not it certainly looks good on her right now.