It's no secret the Real Housewives know a thing or two about shade. Over the years and as seasons continue, it seems like the women develop even more impressive shade skills. They definitely aren't afraid to channel their inner mean girl.
More: Real Housewives Rundown: The Women Ranked From Least to Most Dramatic
That brings us to this much-needed ranking of all the times the Housewives were shady ice queens. Of course, there are an infinite amount of these specific moments, making it impossible to list all of them. So, we're including some of the most memorable ones that fans will never forget — and some of our favorites.
As you'll notice, several moments from the Real Housewives of Beverly Hills Season 7 scored quite a few of the top spots. That's not because it's our favorite (we're a little partial to Real Housewives of New York City), but the California-based women were absolutely on fire with their shade this past season. How could we not mention them?
It's unbelievable how much shade a group of women can throw, but Real Housewives wouldn't be the same without it, that's for sure. Now, let's get to this very important ranking.
29. Kelly schools Bethenny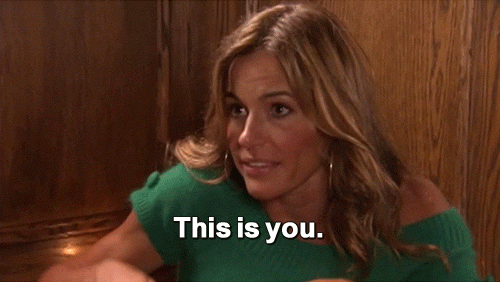 Yeah, Kelly Bensimon never thought of Bethenny Frankel as a friend.
28. Nene and Kim's wig
Sometimes NeNe Leakes and Kim Zolciak just didn't see eye to eye.
27. Dina vs. Danielle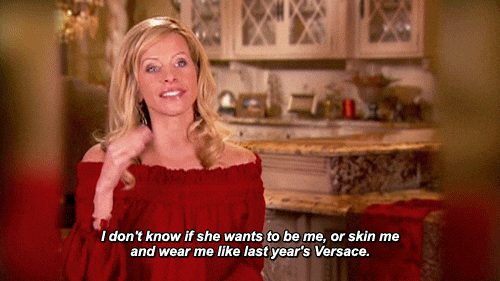 Dina Manzo never had time for Danielle Staub.
26. The sprinkle cookies
We never got to see Teresa Giudice throw out Melissa Gorga's sprinkle cookies, but just hearing it made us cringe.
25. Jill's not impressed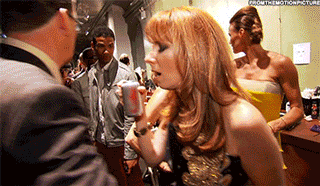 Jill Zarin so didn't want to be at Alex McCord's Brooklyn Fashion Week show.
24. Kenya & Porsha's hair digs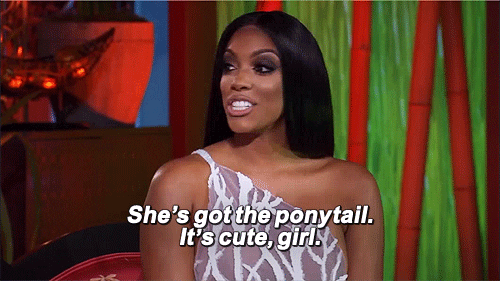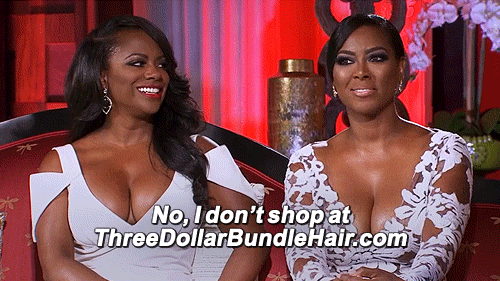 Kenya Moore and Porsha Williams despise each other just as much as they despise each other's hair.
More: 11 Most Dramatic Real Housewives of Orange County Fights Ever (VIDEOS)
23. Garbage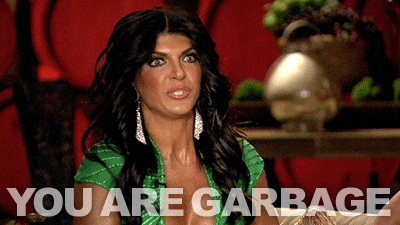 Whenever Teresa uses "garbage," it's as cold as ice.
22. "Book-gate"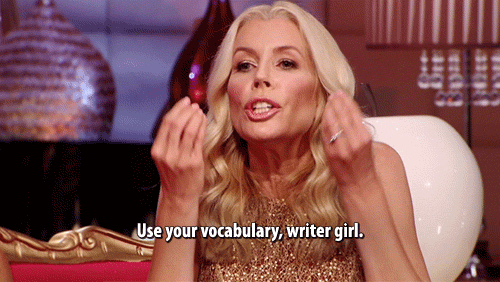 Aviva Drescher, we hate to break it to you, but Carole Radziwill would never use a ghostwriter for a book.
21. Ramona against the Berkshires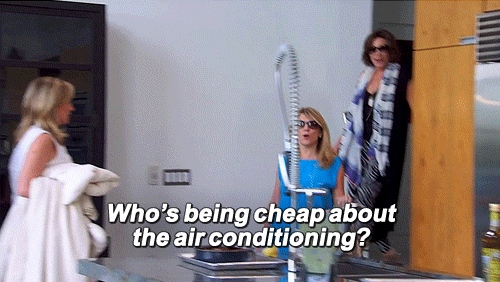 Remember during RHONY Season 6 when the women visited Heather Thomson's Berkshires home and Ramona ordered her own personal air conditioner and then chartered her own private jet to leave? Anyone else get chills — and not from the A/C?
20. Are you homeless?

"You don't have a home?" No, Gizelle Bryant, Monique Samuels actually has four homes.
19. Caroline doesn't care
Sometimes Caroline Manzo has more important things to worry about, Kathy Wakile.
18. What is white trash?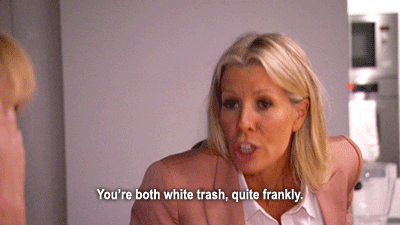 Aviva calling Sonja Morgan and Ramona white trash was way below the belt.
17. Luann hates Alex's shoes
The Countess had no time for Alex's loud shoes, especially when she was storming down the stairs in Morocco to fight with Luann D'Agostino.
16. Heather vs. Shannon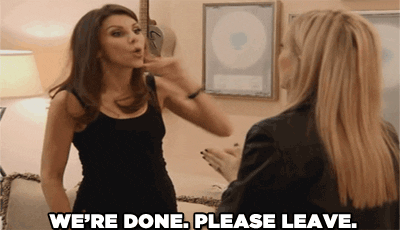 If you're not on the same page as Heather Dubrow, you may get thrown out of her house, like Shannon Beador.
More: 10 Scandalous Real Housewives Secrets Revealed by Former Stars
15. When Karen Huger did this

Karen is the queen of Potomac — and apparently all of the etiquette rules.
14. "Get a hobby!"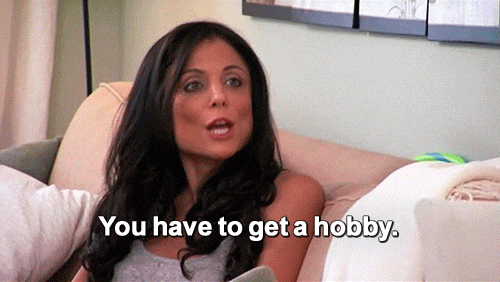 Bethenny telling Jill this really added fuel to the fire at the end of their friendship.
13. Teresa's one-liner
Teresa never could help herself around Danielle Staub.
12. Alexis' religious boobs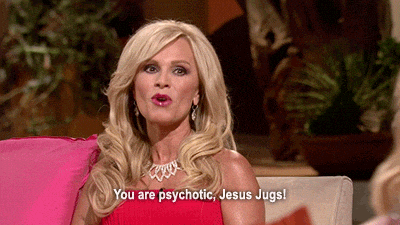 Tamra Judge never was a fan of Alexis Bellino.
11. Sherée vs. Moore Manor
Sherée Whitfield wasn't here for Kenya Moore and her new home.
10. Kenya vs. Chateau Sherée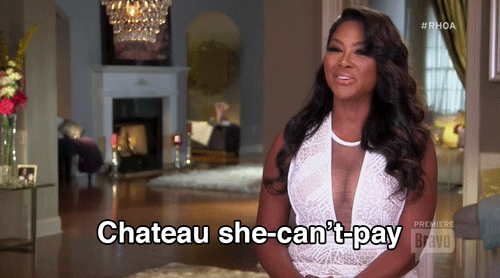 Like Sherée, Kenya couldn't help but take a dig at Chateau Sherée.
9. The wrath of NeNe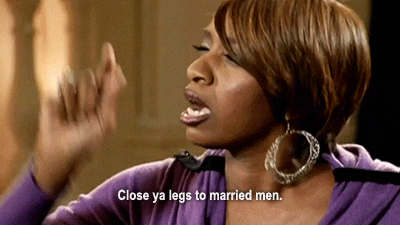 When she wasn't dissing on her wig, NeNe went there with Kim.
More: Every Fight on RHONY Seems to Start With Bad Advice From Ramona Singer
8. Teresa's criminal background
Jacqueline Laurita really couldn't help herself. Yikes.
7. It's about "important shit"
This is what happens when you mess with Erika Jayne, Dorit Kemsley.
6. Doing crystal meth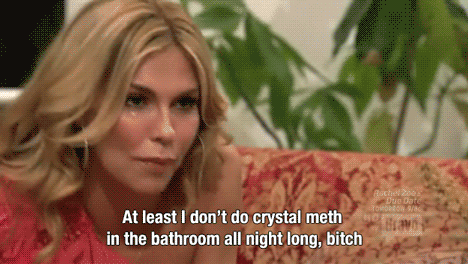 Before Brandi Glanville and Kim Richards were friends, they were having conversations like this.
5. "Panty-gate"

Dorit's so-called funny panty gift to Erika was, well, not funny.
More: RHONJ's Joe Gorga and His Sexism Really Need to Go Away
4. "Meal ticket"

Kim Richards and Lisa Rinna will never be on the same page.
3. Coke and bathrooms
This is what happens when you're at Dorit's dinner party and everyone gets up and leaves the table, except for Lisa Rinna.
2. Sonja's vagina

If talk about Dorinda Medley behind her back and to the tabloids, she might bring up your vagina and sex life.
1. The bunny

The iciest moment in Real Housewives history yet. This will seriously be hard to beat.
Now, if you'll excuse us, we definitely need several beverages after all that shade.
More: Imagine This: RHOBH's Kim Richards Could Have Been Our First Lady