In case you hadn't heard the good word, there is reportedly a Game of Thrones spinoff in the works. OK, to be fair, there is a bit of contention over whether or not it is likelier that a prequel would happen as opposed to a sequel, but I like to entertain all my options. Hell, even HBO's programming director, Casey Bloys, has admitted that GoT is "such a big property we would be foolish not to explore it."
This alleged GoT sequel or prequel or what have you is still very early in it's production — one might even say it's still out in the ether. So as to be expected, there are a ton of directions the potential show could go in. Also to be expected, I have feelings about said directions.
More: We Have Dragon-Sized Feelings About These New Game of Thrones Photos
To sum it up, Imma need a lot of sex, blood, intrigue, familiar faces and new locations. But with that being said, here's my personal ranking of GoT spinoff options based on how sexy, bloody or interesting they could be.
8. Going traditional with a Dunk & Egg spinoff
This is fine, I guess? The Tales of Dunk & Egg is basically just a story about two bros, Ser Duncan the Tall and Egg, aka future King Aemon V Targaryen 90 years before the events of Game of Thrones. I'm sure it would be fun to have a show about two dudes on the road getting into all kinds of mythical and pseudo-medieval adventures. This Dunk & Egg story is the most fleshed out of Game of Thrones-adjacent stories that could potentially get the greenlight, but at the expense of another more creative story getting the spinoff treatment? I'll pass.
7. A sequel involving a minor character
I like the idea of taking a minor character that we've fallen in love with in Game of Thrones and showing their life after the series ends. Of course, my vote would be for Westeros' Most Likely to Be in a Rom-Com couple, Sam and Gilly. Can you even imagine how delightful that spinoff would be?
You could also focus on sweet hero Hodor and his childhood after Bran interferes with him.
Even better, you could focus on Brienne of Tarth (badass lady knight!), Littlefinger (handsome but creepy political ne'er-do-well!) or maybe even Ellaria Sand, who looks after and raises the super-cool band of sister assassins, the Sand Snakes. Boom.
6. A White Walkers prequel
We've gotten a blood-soaked glimpse into the White Walkers origins in GoT Season 6, but there's so much more to the story than we know. It's hinted that there was an ongoing war and the White Walkers were created out of necessity. This sounds like there's a big potential for blood, guts and glory, aka some of the best things about the world of GoT.
5. A prequel about the reign of Mad King Aerys
One of the most talked-about moments in the history of GoT is the reign of Mad King Aerys, Daenerys' dad and the man Jaime Lannister killed to get his brother-in-law on the throne. This would be a juicy, sexy prequel option that would explain so much about the characters we've grown to love. Plus, more Jaime and Daenerys? Sign me up.
4. A Dothraki spinoff
OK, so maybe I'm just a glutton for all things sexy in the world of GoT, but I really love the idea of a Khal Drogo prequel. Like, how did this handsome, brooding horse lord become the ruler of his people? What is life truly like for the Dothraki? Just give me all the shirtless horse lords, please, and step on it.
More: Don't Mourn Game of Thrones' Series Finale News — It's Actually for the Best
3. Melisandre should get a spinoff
Give me magic, give me sex appeal, give me more crazy resurrection sequences — basically, give me all things Melisandre. The fanatical woman of mystery is so in tune with the otherworldly that her life after being exiled from Winterfell is rife with story possibility. Also, let's not forget she's actually a super-old woman underneath that sexy exterior. I want more!
More: All the Parts of Cersei's GoT Prophecy That Haven't Been Fulfilled — Yet
2. Lyanna and Rhaegar's love story is prequel-worthy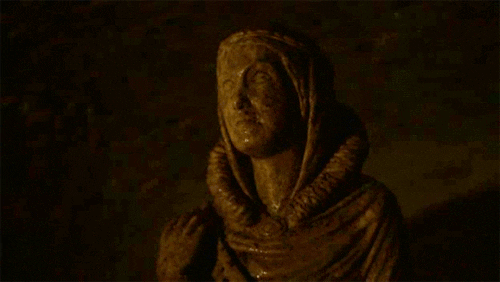 GoT's version of Romeo & Juliet is the story of the ill-fated love between Lyanna Stark and Rhaegar Targaryen. It's the one prequel idea that could be a big draw for viewers, expanding on a well-known prophecy in the GoT fandom and really giving better insight into the events that led to Jon Snow's birth. giving us all the things we love about GoT: sex, love, bloodshed, courtly intrigue and wars between famous Westerosi families.
1. Just a whole Jon Snow spinoff, please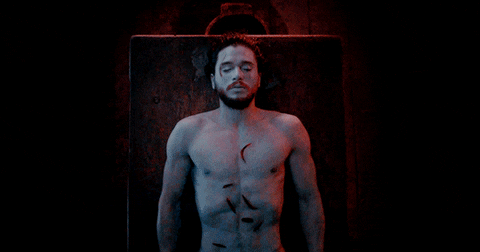 We have literally zero idea how GoT will treat Jon Snow, but you know what? I want more of him and I want him in his own spinoff. He deserves it; the man died and came back to life for pity's sake. Let him do his thing, HBO!
Who would you watch a spinoff show about? Let us know in the comments below.