In the words of Ilana Glazer, "Happy Holidaze!" Today was one of the Lord's most holy days, 4/20, a national holiday for weed… you know, if you blaze, bro. It's a blissful day where high school teens run some mad shenanigans, skip class to get high, play pranks and irritate teachers who have no power to quell the pot-appetites of the American teenager. For adults trying to keep the spirit of 4/20 alive, they likely already smoke weed on the regs, so it's not that thrilling. Unless…you're Abbi and Ilana of Broad City, a pair who can breathe (or cough, or exhale) hilarity into anything.
More: Broad City: Feminism 101, According to Abbi and Ilana
To keep hungry fans at bay for their hotly anticipated upcoming season, the duo have been making a series of YouTube shorts called Hack Into Broad City. And the notoriously high best friends would never pass up an opportunity to give us some BC 4/20 love. Today, they released a 90-second video called "Sharing a Bowl."
More: The Broad City Response to Being Told to Smile Is Just Perfect
In the video, Abbi and Ilana video chat, a quirky, real best friend thing they frequently do in the broadcast version of the show that is oh so relatable for America's besties. Abbi is initially upset that Ilana started the day off without her, but it turns out that the smoke is just vapor from Ilana's new vaporizer. She "took out that lavender rosemary bullshit and put in 100% vape oil, bitch." She's such a queen.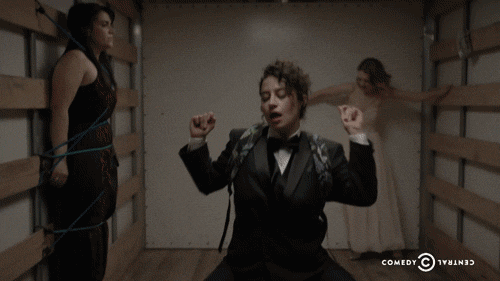 More: 10 Things Broad City Gets Right About Millennials' Real-Life Struggles
The two then mime passing a bowl back and forth between their screens until the clip ends in a silly, bizarre blaze of millennial-centric weirdness… you know, just typical Broad City brilliance. Watch what happens below!
How was your 4/20? Tell us in the comments!