Honestly, I've never seen a Star War.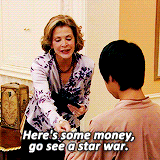 I'm not quite sure why. I love space and feminist princesses. The original trilogy was a bit before my time, and maybe I just didn't feel like catching up. But I might have to change my tune soon, because Prince Harry and Prince William definitely probably maybe certainly are making a cameo in the upcoming installment.
more: Prince William Totally Knows His Mom Was a Royal Babe
The Daily Mail planted rumor seeds after the British royal duo were spotted on the set of Star Wars: The Last Jedi a year ago. Their reporters thought it would make sense for the two to appear as Stormtroopers after fellow Brit and Bond, Daniel Craig, did so in The Force Awakens.
…and so has The Duke! pic.twitter.com/c9gOh4ACyA

— Kensington Palace (@KensingtonRoyal) April 19, 2016

More: The Queen Is Undoubtedly Grimacing at Kate Middleton & Prince William's PDA
What started out as rumors might just be true, though. Actor John Boyega made some sly insinuations in a recent interview. When asked by the BBC if singer Gary Barlow made any appearances in The Last Jedi, he joked, "I have no comment, but he does look good in a Star Wars suit." The interviewer pivoted off that to ask the same question about the princes, to which Boyega replied, "No comment on that, but they look good too." What a tease.
More: Prince William and Kate Middleton's Baby Girl Is Beautiful (PHOTOS)
Director Rian Johnson made a verbal wink at the potential cameo as well, telling Yahoo!, "I have no idea what you're talking about. I have no clue." He continued with a grin, "I can neither confirm nor deny." Seems like it might just actually perhaps totally happen!
Are you stoked for a princes' lightsaber battle? Tell us in the comments!