We live in a world of nonsense most of the time. We spend our days consumed in texts and tweets, crushes and computers, happy hours and hangovers. Our society has reached (what I hope is) maximum saturation when it comes to how much information we get in a day, how much time we spend with tech over people, how impersonal our connections can be. And we've benefitted from those shifts enormously too. But the world is smaller than it used to be and so are our minds because of that sometimes.
More: Mandy Moore's Parents Aren't So Sure About Her This Is Us Character
Thank goddess for Susan Kelechi Watson for giving us quite the reminder to take a break from that world now and again. To zone out. Turn your tech off. Look back. Put a pen to paper. Meditate on what is truly real in your life, past and present. The This Is Us star, like everyone else on the unexpectedly huge hit show, has seen her star rise, and she's making sure to lift us up with her. Not only is the show tear jerking us left and right, but three of the show's leading ladies, Mandy Moore, Chrissy Metz and Kelechi Watson sat down with People to read letters to their younger selves for the magazine's World's Most Beautiful series.
Television can be so superficial, so consuming, so numbing, and it's nice to know that the actors of This Is Us, a show that delves deep into the very real, very human aspects of family and everyday life, are just as focused on keeping sentimentality and being earnest alive in real life.
Kelechi Watson's letter to her younger self is particularly moving because it addresses the loss of five important women in her life. With feminism beginning to feel like a real global, unifying force and sisterhood and womanhood at the forefront of many conversations, it's a very poignant example of how important those topics really are. And it's also a shining disclaimer to women everywhere to look at your own coven. Not to just fight the patriarchy, but celebrate every single woman who has ever lifted you up.
The transcript and video are below, but do not watch without tissues. And maybe a glass of wine.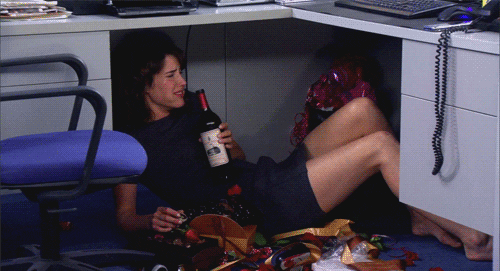 And here's the transcript for those of you who prefer to read her words.
"Dearest ZQ,
"Hey young one with the round cheeks, big eyes, long thick hair and skinny little legs… in the next seven years, you'll suffer the loss of your twin, your partner in crime, your aunt, your cousin and your fairy godmother. Five great women you loved and had tremendous respect for. Women you aspired to be like. Women who cared about you, listened to you, fed you and raised you. Not an easy time in your life, kiddo, but you will survive… and who they were will make you better.
More: This Is Us' Chrissy Metz Is the Perfect Combo of Brains, Beauty and Talent
"Your Auntie Essie, aka the greatest godmother of all time, the one who bought you the best Barbie dolls and took your little behind to the movies to see The Muppets, who made sure you had sleepovers with her daughter because she knew you were the only girl in a household full of boys, the one who never forgot a birthday or a Christmas and even when she didn't see you, let the gifts pile up in her hall closet until the next time, the one who taught you that family is not just a blood relationship, it's one you invest in with love. One day, cancer will overwhelm her body, but true to form, she'll leave you with a great gift — the gift of time and investment. She'll make sure you know how important it is to show children that you care, that you haven't forgotten them and that they are loved… even if they are not your own.
"Auntie Saskea will pass too, from lupus. Oh man, she was a beauty. I mean, it would take my breath away. The caramel of her skin, the almond shape of her eyes, her perfect figure and raspy voice was everything you looked up to. She was a presence — a resilient, defiant presence. She was beautiful. And even near the end, when the disease had so ravaged her body that no part of her looked as it had before, you'll sit with her for a while, hear her speak of love and life and she'll ask you how you're doing with no thought of herself, and you'll learn that beauty resonates from the inside out. Nothing can steal your beauty if you don't let it. You'll take this with you always.
More: Why the Mailman on This Is Us Brought Me to Tears
Cousin Carmen is one of the boldest, funniest, brazen, honest, most audacious women you've ever known. She was irreverent and it was always awesome. She spoke so she could be heard. She believed she should be heard and knew her opinion mattered. She will pass, but she leaves you with the gift of saying the truth without fear — that your opinion matters and is worthy of expression. Exercise it as much as you can, especially in situations where people would have you believe you shouldn't.
"Fadia, aka your twin from another mother and one of your best friends, will suddenly go home to be with the Lord in the next two years, and it will change your world. But fear not; she's in good hands, and she leaves you with fun and what it means to be a good friend. She'll remind you to care about even the minutia of a friend's day, to be invested in what makes them happy and to enjoy a good man-chat. She'll show you in very certain terms that your body is mortal, even when you're young, so make every day count. She'll remind you to choose joy. You can't go wrong if you choose joy.
"Great grandma, your partner in crime, your caretaker, your second mother, the greatest entertainer and storyteller to have ever lived and the most dramatic woman you'll ever know. To her you owe the most humble thanks of all. She dedicated her life to help raise generations of your family and you get to be counted in that number. She'll show you how to appreciate every year of life you get, that 80 isn't too old to be the assistant coach of your great grandson's little league team and 90 isn't too old to get your American citizenship. She'll teach you that if you remain open to the possibilities, you can pick up a paintbrush at 91 and discover you're an artist or sit down at a piano at 12 and teach yourself to play by ear. She showed you you're never too young to get hustled at cards and that it's cool to be a broad and enjoy a good cigar sometimes. She taught you that one of the most important things you can do in this life is to "give a joke" — find the funny and share it — and that love is meant to be passed on if you want to be surrounded by more of it. You get to keep all of that and use it as best you can.
"So, Su-ZQ, these women will transition into spirit and light and you will survive it. You will remind yourself to take their gems and distribute them as generously as they did with you. In your life and in your art, they will make you better.
"PS: You'll also drop the ZQ and just go by Su. Trust."
How hard did you just sob!? Tell us in the comments.