Flip Or Flop Gets New Hosts: Who Are Aubrey and Bristol Marunde?
Apr 18, 2017 at 1:30 p.m. ET
HGTV ain't dumb. Now that they've capitalized on the divorce drama between Tarek and Christina El Moussa, the network is expanding its Flip or Flop family with the new spinoff, Flip or Flop Vegas, which is new to the network as of April.
More: Christina El Moussa Reportedly Already Moved On From Gary the Contractor
But our new host couple, Aubrey and Bristol Marunde, is standing strong all on their own. These two have some serious staying potential. Here's what you need to know about the new reality TV power couple.
1. They know their shit
The couple has renovated over 140 homes in the Las Vegas area. Aubrey is the real star of the flipping business. She bought her first property at just 20 years old according to Life & Style.
Bristol is more the construction guy, while Aubrey takes on real estate.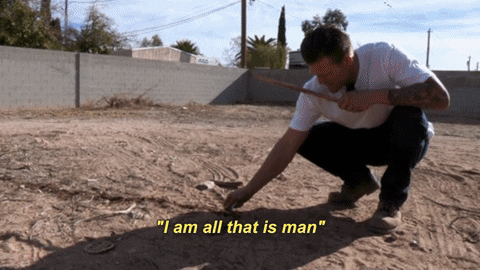 2. Flipping houses is a family business
The Marundes have two young sons — Kale, 6, and Kane, 3 — who hang out at the construction sites when they're not at school according to Bristol. Bristol himself grew up around construction sites since his dad was also a contractor.
3. Bristol is an MMA fighter
Though Bristol isn't giving up his MMA career for reality TV, he is putting it on hold for a bit.
He told People that he's "actually not allowed to fight during filming, but once we're done, I'm going to schedule a fight."
4. They're interested in business, not fame
The couple previously appeared on the show The Ultimate Fighter and called the experience "grueling." Aubrey told People, "When [HGTV] first approached us, we weren't into it. But once we met everyone at HGTV and the whole family there, we really just fell in love with the idea."
More: Someone Grab a Fire Extinguisher Because Christina El Moussa Is Fire
I think she means they fell in love with the paycheck. I kid, I kid... kind of.
5. They met at an MMA fight
The two met through friends at an MMA fight in 2009. Aubrey told HGTV it only took one coffee date for the two to realize they wanted to settle down and start a life together. They were married in 2015.
6. They're animal lovers to the extreme
The Marundes currently have two dogs, two parakeets, two turtles, four chickens and two fish according to HGTV. Aubrey explained, "Bristol is always bringing something home for the kids from job sites. Last week it was a huge lizard in a drywall bucket he found, and before that, a baby bunny."
She added, "We are definitely animal people, and our kids love animals, too. We try to teach them about responsibility, and there's no better way than with pets."
7. They take teamwork to new levels
Enough said.
More: Behind-the-Scenes Drama We Didn't See on HGTV's Flip or Flop