Anna Wintour has an eclectic reputation. She is one of the most powerful women in culture, eclipsing what was already one of the most important positions in fashion as editor-in-chief of Vogue, to additionally add creative director of Condé Nast to her title. While being a badass (she probably would think that's a tacky word to use, but I don't GAF) and inspiring career woman, she also has a reputation for being downright icy. It's rumored her nickname in the fashion industry is Nuclear Wintour for this very reason, and the film The Devil Wears Prada was allegedly inspired by her. But even if she's a cold bitch, she loves the gays, and we love her for it.
More: Nicki Minaj and Vogue's Anna Wintour: A match made in fashion heaven
Wintour has been a vocal advocate of LGBT rights for years, and is continuing that work by donating a pair of her iconic Chanel sunglasses (I didn't know she was allowed to take them off!) to the Trevor Project, an organization that provides LGBT suicide prevention. The auction will take place on April 28 and 29, along with a revival of Ryan Raftery's musical Ryan Raftery Is the Most Powerful Woman in Fashion, which parodies the process of making Kanye West and Kim Kardashian's Vogue cover. The musical had long since ended its run, but Raftery was inspired to bring it back after President Trump watered down the Obama administration's progressive protections for transgender students (hell, yes — speak truth to power).
More: Fashion feud: Tim Gunn can't look Anna Wintour in the eyes!
This is all very great. The art world has and will continue to have a profound place in resisting the rolling back of social progress. Wintour's decision to participate is also a great move of encouragement for other high-powered individuals to contribute to the resistance.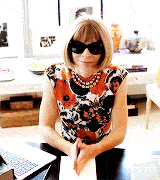 More: Anna Wintour banned Kim Kardashian from Met Gala
My only criticism here is that a donation of one pair of sunglasses from a woman worth oodles of money is kind of falling into the trap of the stereotype of the fashion industry being silly and superficial. The image of someone saying to her, "Would you like to help with our auction to benefit suicide prevention for the LGBT community?" and her just ripping off her sunglasses and slinking back into the shadows is my new favorite thing. But the sunnies will surely pull in quite a bit of money, so we'll just have to take it.
What do you think of Anna Wintour's big auction item? Tell us in the comments.