Cute rabbits and chicks, gifts, jelly beans and chocolate are some pretty great Easter traditions — you'll never see me argue with candy and adorable animals.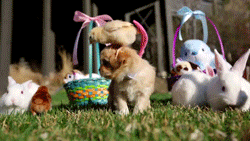 More: The Queen Meets an Elephant, Makes Our Day With Feel-Good Photos
But when it comes to the coolest Easter traditions, England may just have us beat. Queen Elizabeth attended the Royal Maundy today, a tradition dating back to the 13th century, where she basically just hands out bags of money to people on the street.
What makes the Maundy even better is that the queen gives the money out according to her age, so as she continues on her clear path toward living forever, she'll just give out more and more money to more and more people. This year, since she's 91, she gave 91p worth of coins to each of 91 men and 91 women.
Each recipient of special Maundy money from The Queen today will be given two leather purses, one red and one white #RoyalMaundy pic.twitter.com/d5lqTD6SGo

— The Royal Family (@RoyalFamily) April 13, 2017

More: Kate Middleton & the Queen Release Sympathetic Statements After London Attack
People lined the streets to welcome the queen and watch her hand out the dough, because who wouldn't want to see such a great tradition? The recipients of the Maundy money were all retired pensioners recommended by church officials.
What makes Elizabeth the literally queen of the Maundy tradition is that she decided pretty early on in her reign that she wanted to make sure she wasn't only handing out Easter cash to people in London. So instead, she's traveled to a different church for the Maundy every year and given the gift to the locals there. According to People magazine, she's handed out Maundy money at every Anglican church in England as of this year.
More: The Queen Won't Travel Without Chocolate Cake, Because Obviously