Orlando Bloom is being really awkward about his past relationship with Katy Perry. But he's being even more awkward about that one time we all saw his dick. It now only takes a few keystrokes to see photos of Orlando Bloom's peen literally basking in the glow of the sun.
More: Has anyone asked Orlando Bloom how he feels about Katy Perry's baby fever?
I don't want to be immature, but the candid shots are kind of hilarious. The image of any man gleefully paddle-boarding with his penis out is just too reminiscent of little boys pretending to be pirates. I understand he was trying to have a private moment and thought he could let loose, but if I turned around on a paddle board and came face-to-face with my boyfriend's dick, I would most certainly push him off. Maybe Orlando Bloom method-acted in Pirates of the Caribbean and just can't seem to shake the role. Maybe Katy Perry left him because he could just not stop pretending to be a pirate all the time. A girl can speculate.
More: Katy Perry shuts down Orlando Bloom and Selena Gomez rumors with one tweet
Despite the photos also showcasing what looked like a grab-ass-heavy lovefest between the two, they are very done, evidenced by the fact that Orlando Bloom talked to Page Six about the incident without ever referencing Perry by name. He said weird things like, "We're all grown up," and "It's between us," which are definitely things you say about an ex who knows about your extra pirate fantasies.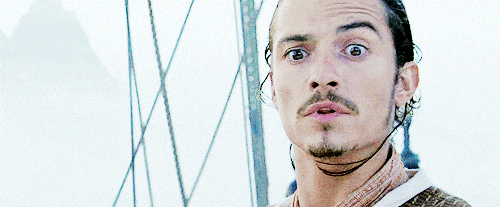 Of the dick slip (can we make that a thing, please?), he said, "I wouldn't have put myself in that position if I'd thought that would happen." No shit, Orlando. Outside of maybe Mel Gibson, I can't really imagine any celeb gleefully waving their wang at the paps. It is sad that celebrities can never experience the freedom we normos do, like having our genitals out in public and no one really caring outside of just really wanting us to put them away or calling the cops.
More: Katy Perry, Orlando Bloom take their relationship to the next level
But it happened. And he's going to have to reckon with it and quit guilt-tripping us for looking. We are only human. And might I say that for 40, he's a total zaddy. Cheers to Orlando Bloom and his paddle board-loving penis.
Have you seen the infamous photos? Tell us in the comments.