Gordon Ramsay may be a complete terror to deal with on his reality shows like Hell's Kitchen and MasterChef.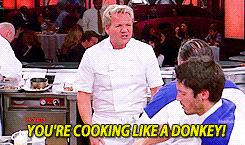 More: Gordon Ramsay Totally Slammed Bobby Flay With Immature Insult
But where he has a noticeable soft spot is when he's working with kids, like on MasterChef Junior.
Apparently, that soft side doesn't extend to his own children.
According to a new interview with The Telegraph, Ramsay is just as hard on his four kids as he is on the poor, hapless suckers who compete in his kitchens. Eighteen-year-old Megan, 17-year-old twins Holly and Jack and 15-year-old Matilda aren't inheriting their dad's estimated $160 million fortune except for a little help with down payments on their first apartments, and they don't get to enjoy too many other perks of their family's wealth, either.
"It's definitely not going to them, and that's not in a mean way; it's to not spoil them," Ramsay explained. "The only thing I've agreed with [my wife] Tana is they get a 25 percent deposit on a flat, but not the whole flat."
More: Morrissey Donates Chef Gordon Ramsay's Money to PETA
He also gleefully makes the kids ride in coach while he and his wife enjoy first class any time the family travels.
"They haven't worked anywhere near hard enough to afford that," Ramsay said. "At that age, at that size, you're telling me they need to sit in first class? No, they do not. We're really strict on that. I turn left with Tana and they turn right and I say to the chief stewardess, 'Make sure those little fuckers don't come anywhere near us. I want to sleep on this plane.' I worked my fucking arse off to sit that close to the pilot, and you appreciate it more when you've grafted for it."
Ramsay to his kids, probably:
But hey, according to Ramsay, his parenting style has paid off, and his kids have turned out pretty grounded.
More: What Would Gordon Ramsay Say About Your Food? (QUIZ)
"They have a completely different life than I did growing up," he said. "I worked my arse off to get out of the shit mess that I grew up in and they're grateful, they're not spoiled."