Billions resurrected Showtime as a network after its long hitless drought post-Weeds (long live Nancy Botwin). The show is almost eerie in its timely depiction of Wall Street manipulation and government corruption. But beyond that, the central feud between Chuck Rhoades (Paul Giamatti) and Bobby "Axe" Axelrod (Damian Lewis) writhes with a contentment so strong, at the end of every episode, you almost want to start a text fight with some girl from high school you still have some shit left to say to. That mixes with the elegant way the show ties in interpersonal relationships that don't just hinge on seething resentment, like most TV couples, and the cherry on top is the whole ensemble being able to make investment capital and state judiciary teams captivating. Billions is just brilliant.
More: Billions' Wendy Rhoades Is Everything We Want to Be When We Grow Up
But now, the show is going one step further into inserting itself into the heart of every liberal elite (lol) out there who just loves a show about the drama and chaos that accompany being at the top of your prestigious field: helping dismantle the gender binary. This year's highly anticipated second season debuted with one subtly introduced but significant character, Asia Kate Dillon's Taylor Mason.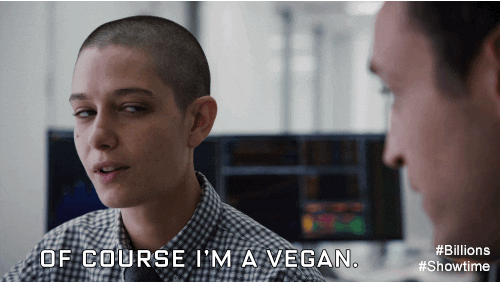 Taylor explicitly defines their preferred pronouns, in what might be an unprecedented move on a premier network show that doesn't focus on queerness. They are a genius-level intern who, despite being able to read money even the legendary Axe can't, and despite being offered millions at the undergraduate level to come on board, are focused on getting to grad school. Not only does Taylor offer one of the most recent, real and not caricatured portrayals of what it means to be gender nonbinary (Dillon is also nonbinary in their own life), the show also uses them as a foil for straight characters who can't seem to wrap their minds around the possibility of a human being existing outside of the heteronormative gender binary. In one scene, a notoriously douchey character starts veering toward slurring at Taylor, and just before he can squeeze the insult out, Axe screams his all-powerful "Hey!" silencing the room. For a man with that much power, even in the fictional world of Billions, to be defending people identifying as gender nonbinary is a significant message.
More: Watch Billions Season 1
And it's a message the show and its team are clearly willing to get behind. Dillon is now requesting that the Television Academy explain how a nonbinary person is supposed to submit their performance, seeing as Emmy categories are gendered. Variety reported that Dillon's letter, which asked, among other things, "If the categories of 'actor' and 'actress' are meant to denote assigned sex, I ask, respectfully, why is that necessary?"
More: Jennifer Lawrence Starstruck by Homeland's Damian Lewis
Thankfully, to Dillon's sole credit, the Television Academy had to consider that very important question and gave the right answer — which is that Dillon can submit to whichever category they identify with. It's not so progressive as actually having categories specifically and exclusively celebrating the work of transgendered and nonbinary individuals, but it's a step in the right direction. With all the hate going on in the world politically, let us perhaps take this as a sign that the arts will continue to progress regardless.
How do you think the Emmys should have responded? Tell us in the comments!