Women in entertainment have always been pitted against one another. The world loves nothing more than to create a situation in which women are encouraged to rip one another down. It's a scam to keep us from lifting one another up or at least checking our insecurities long enough to realize we have way more to worry about than each other in order to succeed. Sometimes, the juicy celeb gossip has merit, like Katy Perry and Taylor Swift's infamous beef and Mariah Carey and J.Lo's hilarious shade-throwing.

Or this gem of pop culture history:

But more often than not, women are not the catty, hormonal creatures the patriarchy makes us out to be —as though we can't sniff a pheromone without getting territorial or encounter professional competition without becoming emotional. No one ever assumes that male co-stars hate each other. You never see the headline, "Johnny Depp Raging With Jealousy of Brad Pitt's Looks!" No, you see, "Ben, Matt and Casey: Bromance of the Century!"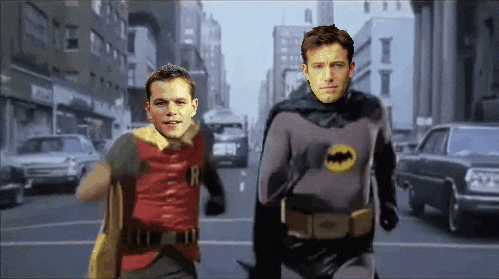 More: How AHS' Jessica Lange really felt about that David Bowie scene
And thankfully, we have women like Susan Sarandon around to tell it like it is. She made a very real point in a recent Tweet addressing what interviewers seemed most interested in about her new hit Ryan Murphy-produced show Feud: her relationship with Jessica Lange.
The #1 question I get in interviews is whether Jessica & I get along. Jess & I not only got along great during filming, we're now dating

— Susan Sarandon (@SusanSarandon) April 3, 2017

More: 11 Reasons Jessica Lange leaving American Horror Story will improve the show
Leave it to Sarandon to address the issue with both humor and poignancy. She makes the perfect double-edged point, all in under 140 characters (and who said the internet was just for young people). On the one hand, it's absolutely absurd that journalists would be more focused on reporting on interpersonal behind-the-scenes relationships than the actual show that was made, especially this one, which is not only part of the gilded Murphy empire, but puts two older actresses as leads on a hit TV show (more of this, please!) and delves into the real-life Hollywood feud between Bette Davis and Joan Crawford. You don't need to make one up. There's already one in the script!
But secondly, to her more lighthearted quip that they're dating now — it may be just a joke, but it sheds light on the other side of the coin. So what if female co-stars don't like each other? There have been plenty of rumored riffs between male co-stars over the years, but they don't grab tabloid headlines, and they certainly don't cement reputations for those male actors as being bitchy or hard to work with. And Sarandon saying, "…we're now dating," feels like some great shade on this trope. Like, OK, so if we don't hate one another will this rumor satisfy you? Since apparently they can't just be colleagues without a salacious story underneath.
More: Susan Sarandon admits to affair with rock legend David Bowie
Jessica Lange and Susan Sarandon are national treasures, and you should want to ask them more about their roles on one of the most innovative and creative TV shows out right now.
What would you want to ask these two legends? Tell us in the comments!