Big Little Lies will go down as a behemoth of television lore. It's been universally adored, and with A-list star power, and HBO's marketing and production budgets, it's maybe the biggest thing that's ever happened to a best-selling pulp novel. And I say that while being fully aware of Fifty Shades of Grey — but while Fifty Shades of Grey may have been monetarily successful, both films were also underwhelming schlock. Big Little Lies, on the other hand, created seven hours of glossy, artsy, captivating, gritty glory, and I think you'd be hard pressed to find a critic who disagrees. [SPOILERS AHEAD].
More: Big Little Lies Is Like Sex and the City but With Kids and a Beach
Also, let's just take a moment for Reese Witherspoon appreciation: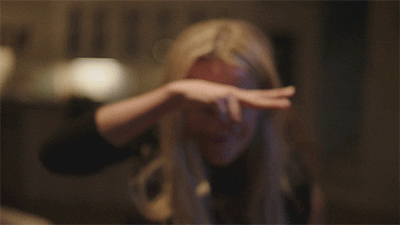 But everyone was a little anxious going into this weekend for the finale of a thrill ride we all hoped wouldn't end. The big questions that were introduced in Episode 1 were finally going to be answered: who died, and who did the killing? And we were finally going to get to witness the absurdity of a the bitchy, rich, suburban, Audrey/Elvis-themed trivia night where it all went down — which gossipy side characters had been rolling their eyes about in police interviews over the past seven weeks.
More: A Deep Dive Into Big Little Lies and Who the Killer & Victim Might Be
I immediately looked up the plot of the book after the first episode because I have no chill and love spoilers. So I've known for the whole season that, under the condition that the series would stay true to the book, Celeste's (Nicole Kidman) hot but abusive POS husband, Perry (Alexander Skarsgård) would be taking the big fall. What I didn't see coming, however, was that the ending would be a feminist triumph that we're kind of not even worthy of after lusting after a murder mystery for two months.
In the end, the five women who had been dueling all season over love, marriages, jealously, motherhood and sex were united in their fight against one toxic, venomous man. As everyone's tensions culminate in one explosive battle, Perry disgustingly battering the five different women, a season-long mood shifted. You see these female characters make an instant shift to unrelenting, uncompromising protection of one another in the face of abuse from a man. You see them all realize that solidarity in sisterhood should override any other petty kind of drama.
More: Shailene Woodley's forsaking her young fans for dark HBO show
The final montage on the beach of the five women with their children playing, laughing, being affectionate with one another and quietly guarding their truths together was a scene of female friendship that we need to see more of on television. It wasn't a mirage. It was a very real thing that happens all the time. The stereotype of catty females is forced on women, and often out of conditioning, and sometimes necessity, we embody it and become our worst selves. But when left to our own devices, sensing our intuition and instinctive bond of womanhood, we too find these moments every day to set aside our differences and have each other's backs because being a woman in this world is one of the toughest things you can do. So thanks to Reese Witherspoon, Laura Dern, Nicole Kidman, Shailene Woodley and Zoë Kravitz for making me cry and tugging at my feminist heart strings after a season of grade-A entertainment.