Cartoons conjure up so many happy memories: bowls of sugary cereal, glasses of orange juice, sitting on comfy pillows on the floor on Saturday mornings.
More: Artists Give Classic Works of Art an Awesome Walt Disney Twist
For kids and adults alike, cartoons are a dynamic yet comforting source of entertainment. And as decades have come and gone, so have cartoon shows — only some have been remembered through generations, and others just never got the recognition they deserved.
Today, that's about to change. Here are the 11 most underrated cartoons of all time finally getting the credit they're owed for shaping our Saturday mornings (and weeknight binge sessions) for so many years.
More: 7 Kids' Cartoons I Can't Stop Watching
1. Tiny Toon Adventures
This early '90s show featured an up-and-coming generation of Looney Tunes characters making their way through Acme Looniversity, and it was off-the-chain hilarious. I remember cackling with my brothers forever over Baby Plucky flushing toys down the toilet (because that was obviously the funniest thing in the world). Pretty sure my mom even recorded that episode on a VHS tape because we loved it so much.
2. Rocko's Modern Life
Rocko's Modern Life was one of the greatest shows of all time. It was enjoyable for kids and adults alike, with the kids just watching a wallaby and a cow get into wacky misadventures while the crass jokes meant for the grown-ups flew riiiight over their heads.
3. Scooby Doo, Where Are You!
Ruh-roh! Is there anyone out there who didn't grow up watching the Scooby gang ride around in their Mystery Machine trying to save the world? It's where we learned to face our fears, and that things aren't usually as bad as they seem. This show has been a Saturday morning staple for decades, yet somehow, Scooby Doo, Where Are You! never quite gets the credit it deserves.
4. The Boondocks
The Boondocks is a more modern cartoon. Based on a comic series of the same name, it features a black family facing stereotypes in a (mostly) white suburb. The social commentary is too good to miss.
5. Gargoyles
The great thing about Gargoyles was the complexity in its story. Each episode built on the ones prior, and there were often references to past events on the show in newer episodes. It was remarkably well-written with plenty of drama and tons of action — more like a modern serial drama than a cartoon.
6. The Angry Beavers
How this gem of a show only lasted four years is a complete mystery. Featuring two wayward beavers getting kicked out of the family dam and struggling to strike out on their own, The Angry Beavers may have been the first introduction many of us millennials had to the struggles of #Adulting.
7. The Oblongs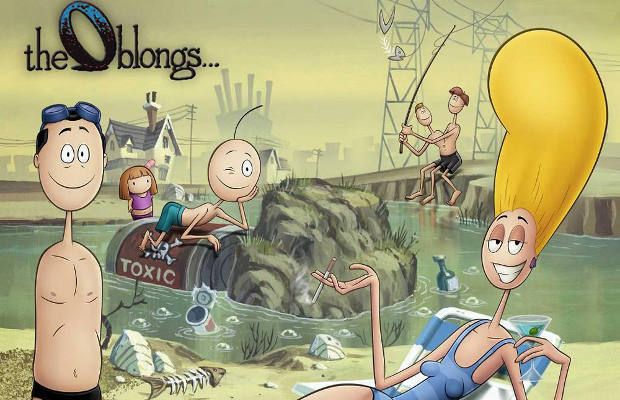 This charming series featured a poor family that lived under a cloud of pollution that physically deformed them, but their senses of humor — and the fact that the show was spoofing 1950s family sitcoms — made it feel slightly more politically correct.
8. Duckman
Starring Seinfeld's Jason Alexander as the voice of the sleazy main character, Duckman was a cartoon that was only for adults — every character was morally bankrupt, but wickedly funny.
9. Archer
Since being placed online, Archer has seen a little bit of a revival. But when it debuted, it was probably the most underrated show on the network's lineup. Still, its satirical take on the spy movie genre is one of the freshest things on TV, and Archer is well worth binge-watching now that so many seasons are available.
10. Histeria!
Each episode of Histeria! featured a cast of historical figures, from philosophers to presidents. Their crass and slapstick humor was funny for kids of all ages, and the stories were educational too.
11. TaleSpin
Featuring characters based loosely on those from The Jungle Book, each episode of TaleSpin was based on a famous short story or classic movie, like A Fish Called Wanda or The Ransom of Red Chief.
More: 9 Cartoons I Love Binge-Watching with my Daughter

Many of these underrated shows are hard to track down, but others can be watched on streaming services online. Give them their due and check them out.
This post was sponsored by Boomerang.