So, a magical '90s reunion happened without warning, and I think I might cry because the photographic evidence is so beautiful to behold.
More: Flashback: The Fresh Prince of Bel-Air Ended Perfectly for a Spinoff
The cast of The Fresh Prince of Bel-Air reunited yesterday, and luckily, Carlton, ahem, I mean Alfonso Ribeiro was there to document it. Nearly the entire gang was present from the original Fresh Prince cast, and it was so exciting to see everyone come together for, as Ribeiro noted, just an afternoon. What were they doing all together, though? Were they just having a casual lunch together, as one does? Or were they maybe planning an actual Fresh Prince reunion?

Sadly, the one notable absentee from this picture is James Avery, who died in 2013. Avery played Uncle Phil on the show. Then again, a recent photo surfaced of Smith, who appears to be aging gracefully by all accounts, looking quite a bit like Avery these days. For what it's worth, if the cast ever did choose to reunite for a special episode of Fresh Prince, Smith could definitely take on the role of Uncle Phil. How's that for a helluva reboot idea?
More: 5 Episodes of The Fresh Prince of Bel-Air That Really Hit Home
While it's not rare for mini-Fresh Prince reunions to happen from time to time, it's definitely unusual that the entire cast would get together again. Nevertheless, it's totally lovely to see that they all still remain in contact and, yes, even get together to chill when their schedules permit. That said, would it kill you guys to at least reconsider reuniting for a special episode? Tons of '90s TV shows are doing it these days. Heck, if we're getting more Twin Peaks and Will & Grace, then we definitely deserve more Fresh Prince.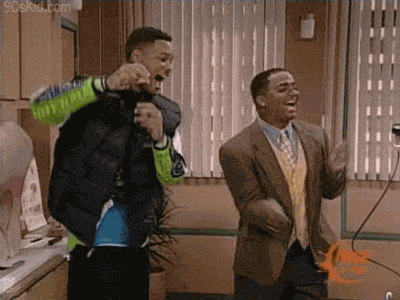 More: Where Are They Now? Alfonso Ribeiro and the Fresh Prince Cast
All this talk of Fresh Prince has me itching to do the Carlton out of sheer joy. Be right back. I gotta dance these feels out.
Before you go, check out our slideshow below.