Beauty and the Beast did so many things right. The cast was perfect. The new songs were stupendous. The sets were breathtaking. The CGI was marvelous.
But Disney has failed us.
More: We Spotted 11 Nostalgic Callbacks in the New Beauty & the Beast Trailer
They have failed us in an irreparable way. Because there could have been the most amazing Frozen Easter egg moment, and it wasn't included in the movie.
If you'll remember, in the original animated Disney film, there is a moment when the character LeFou is covered in snow, becoming a snowman while he waits outside Belle's house.
#TrueStory "@MyWhatAGuy: "Do you wanna build a sno…" NO ONE BUILDS A SNOWMAN LIKE GASTON"

"..ok bye"" pic.twitter.com/PG3RfC20KO

— LeFou (@TheGreatLeFou) July 13, 2014

Cut to the new film, in which actor Josh Gad plays LeFou in the live-action film, and he also voiced Olaf the snowman in Frozen, which would have lent itself perfectly to a scene paying homage to both characters! Gah, Disney, why wouldn't you give us this joy!
We learned of the Frozen Easter egg that could have been thanks to Gad himself, who explained to People that he begged director Bill Condon to make it happen.
More: I forgot how much I loved Beauty and the Beast until watching the new trailer
"The Easter egg I fought for [director] Bill Condon to put in but we never did, there's a moment in the original where a bunch of snow falls on LeFou and he becomes a snowman and I thought, this could kill," Gad said. "It's a little meta but it could be great."
It would have been so great!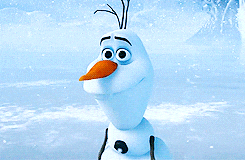 Gad should just go ahead and film a little spoof video himself or maybe Disney will decide to include it as a special little extra in the DVD. We can only hope.
More: Behind-the-scenes pics from the live-action Beauty and the Beast
Before you go, check out our slideshow below.