So, after reading through this new Jenny Slate profile I'm a little verklempt. To be honest, after reading this story, you may be overcome too, because it's about to get real up in here, y'all.
More: 18 Things About Jenny Slate You Probably Never Knew
One of the many topics covered in Vulture's newest profile on Slate was her relationship with Chris Evans. The two actors, who met while filming the upcoming indie drama Gifted, were reported to have begun dating in May 2016 and split up quite recently. Since that breakup, Slate's discussion with Vulture about what it was like to date Evans is illuminating, heartbreaking and ridiculously honest.
At one point, while discussing what it was like to be one half of the couple, Slate opened up: "To be quite honest, I didn't think I was his type. Eventually, when it was like, 'Oh, you have these feelings for me?', I was looking around like, 'Is this a prank?' I mean, I understand why I think I'm beautiful, but if you've had a certain lifestyle and I'm a very, very different type of person — I don't want to be an experiment." That's when, at least for me, it feels so real and relatable.
More: Jenny Slate Dropped Knowledge About Pro-Choice in Her Critics' Choice Speech (VIDEO)
From the outside, I'll admit that seeing Slate and Evans as a couple was a bit odd. Perhaps because it felt like a rom-com come to life and these two people had been cast as opposites — All-American dreamboat meets quirky hipster comic — in the public eye. They've both earned a hefty amount of love and goodwill from fans, so as surprising as it was to see them together, it wasn't difficult to root for them.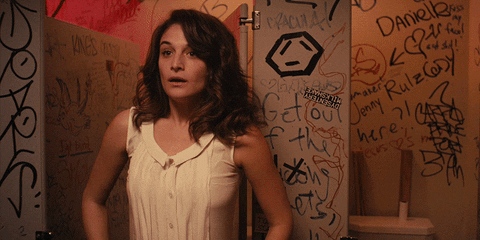 More: Chris Evans Apparently Dated 15 Celebs Before Jenny Slate
However, reading Slate's own discussion of her fears about dating a guy who was perceived to be too handsome or on a different level from who Slate "should have" been dating at the time is a very real fear. For women especially, that feeling of utter disbelief that you could be wanted or desired by someone who you believe (although it's not necessarily true) is more attractive than you cuts so deep.
To be fair, it didn't appear that Slate was wallowing in her loss of Evans. Rather, it seems she was introspective or contemplative. Still, that truth bomb is just too real to deal.
Before you go, check out our slideshow below.