So, Uh, Does Anyone See the Resemblance Between Penelope Cruz & Donatella Versace?
Mar 21, 2017 at 12:52 p.m. ET
Color me 10 shades of aghast at this casting news. Contrary to previous widespread rumors, Penélope Cruz will play Donatella Versace in Season 3 of American Crime Story, not Lady Gaga.
More: American Crime Story Digs Up Memories of the O.J. Simpson Trial
This casting news is a huge swerve from what was being reported mere months ago. Looking ahead to future seasons of the latest hot property in the Ryan Murphy/FX stable, Vogue speculated back in November 2016 that Lady Gaga was set to play Versace. The casting was considered a dream fit for a variety of reasons. Lady Gaga was already in the Murphy-verse of favorite actors, she was a close friend of Versace's and would ostensibly know how to play her on screen. Plus, there was already a striking resemblance between Lady Gaga and Versace. There was, however, the one minor snag: Lady Gaga was never in talks to play Versace, as Murphy would later confirm.
So, dream scenario nixed, who could have come in and saved the day? Cruz, of course. While the previously believed ideal that is Lady Gaga-as-Versace slowly sunk in, it became clear that there were plenty of good reasons Cruz was brought on board to play Versace. Actually, the more I think about it, this could totally work.
More: Lady Gaga Reveals How AHS Helped Her Overcome Her Pain (PHOTO)
First off, Cruz could make a damn good version of late '90s Versace. I mean, look at this GIF of her doing the Zoolander Blue Steel look while she was being interviewed by Jimmy Fallon.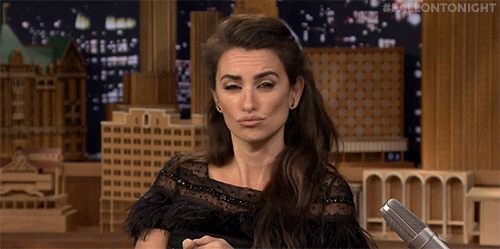 Next, there is no doubt some excitement in bringing Cruz to television. As Variety reported, this is Cruz's first extended television gig. Seeing Cruz tackle a new format — and on American television screens, no less — is a very exciting prospect.
More: Ryan Murphy Revealed the AHS Season 7 Theme and It's Legit the Scariest Thing Ever
There's no doubt upon further consideration that Cruz is actually the best fit to play Versace. Here's to hoping those first stills of Cruz in full Versace regalia get released sooner rather than later.
Before you go, check out our slideshow below.