I have an unusual relationship with Lena Dunham, as both a fan of her work and a distant admirer. Like any normal human being, some days I'm totally here for whatever truth she is laying down, and other days I am in complete rejection of her words. When the news spread around that Dunham looked slimmer at the Tracy Anderson studio opening in New York City earlier this week, I rolled my eyes. Dunham, it would seem, was rolling her eyes at the reports, too.
More: Lena Dunham's Insightful Essay Stresses the Importance of Individuality
That eye-rolling stems from the fact that this news was angled to give the impression of great congratulations, that somehow Dunham had overcome the great shame of being a regular-sized woman for the duration of her career, had begun losing weight and now looked to be the size we expect celebrity women to be. It's patronizing to Dunham to pat her on the back and use words like "flaunt" (as Daily Mail did in its headline on the story) as if she now has something worthy of being looked upon by others. "Flaunt" also annoyingly implies that she is smug about her new shape, that she is losing weight for attention and for superficial praise.
Refinery29 wrote an excellent response piece about why Dunham's weight in none of our business and, even better, Dunham capitalized on the moment by writing a lengthy Instagram response to the way the press handled her appearance at the Tracy Anderson event.

Dunham began by reiterating that she has never given a shit about what the press has said about her weight (Hell. Yes. Girl.) and that this recent weight loss is — surprise! — not actually linked to Dunham's desire to conform to a media standard of beauty. While Dunham has in the past risked getting preachy or patronizing when getting vocal about her personal and political views, I found her Instagram response to be a spot-on defense of herself and her body positivity without being haughty about it.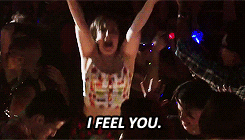 "I've gone on red carpets in couture as a size 14. I've done sex scenes days after surgery, mottled with scars. I've accepted that my body is an ever changing organism, not a fixed entity- what goes up must come down and vice versa. I smile just as wide no matter my current size because I'm proud of what this body has seen and done and represented," Dunham writes.
Her sentences impress upon the reader the sharpness of her desire to make herself heard. It also becomes quite clear that we actually know nothing about the true reasons behind her weight loss, and for that, we should back off ASAP.
"Right now I'm struggling to control my endometriosis through a healthy diet and exercise. So my weight loss isn't a triumph and it also isn't some sign I've finally given in to the voices of trolls. Because my body belongs to ME–at every phase, in every iteration, and whatever I'm doing with it, I'm not handing in my feminist card to anyone," she continued. "I refuse to celebrate these bullshit before-and-after pictures. Don't we have infinitely more pressing news to attend to?"
More: Lena Dunham's "Spasming Bladder" Is a Painful Condition That Affects Many Women
For women, extolling the virtues of body positivity is practically a cottage industry. Various forms of media love to hop on the #bodypositive bandwagon and tell women how easy it is to love your body no matter what size it may be. Then again, women are also plied with media-made images and stories about how to slim down, how to conform and how to reconfigure your entire look to fit an arbitrary norm. WTF are we supposed to do with that?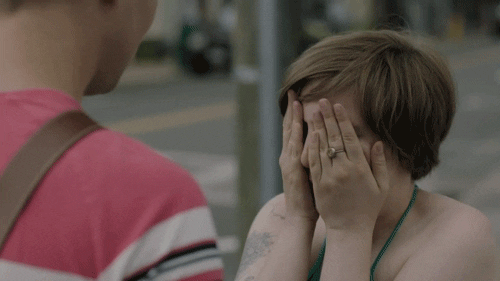 Full disclosure: I'm in my late 20s and I still loathe my body. I torture it with different diets, fad foods, weird exercises and bullshit garments meant to make me feel like the empowered woman I'm supposed to be. Dunham's words on loving her body reiterate a stance on body positivity I can get behind (and which may cure me of my masochistic desire to be more womanly): Change your body for your health, not for the aesthetic.
More: Lena Dunham Apologizes for That Rough Abortion Joke
Bigger than this, Dunham's words remind us that you have absolutely zero idea why a person's body shape is changing. Weight loss or gain is not always directly connected to the superficial desire to look good; bodies change because of health-related issues. Dunham prioritized her health over getting a sexy snap on the red carpet. For that, I bow down.
Before you go, check out our slideshow below.