Donald Trump does not have a great track record with celebrities. Like many conservatives, the president has had trouble connecting with artists, actors and creative types, who often hold socially liberal and inclusive views that are at odds with the GOP platform. The vast majority of celebrities have been repulsed by Trump's history of racism and sexism, specifically his taped comments from Access Hollywood and his recent immigration ban.
Still, a few celebrities backed Trump throughout the election and into his first term — from actors to rappers to singers. While many on the short list of pro-Trump celebrities are standing by their man, others have begun to voice concerns or even revoke their support altogether.
Let's take a look at five celebrities who are either waffling on their political stance or standing with their man.
Kanye West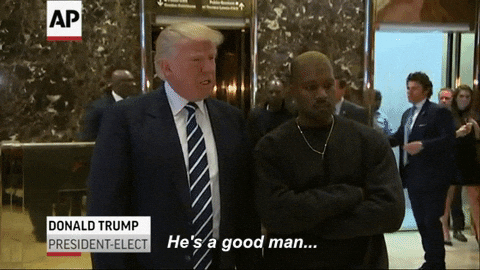 Kanye West isn't the most comprehendible or consistent person in the world, and his somewhat unpredictable behavior seems to affect his political beliefs as much as anything else. The famed rapper shocked his fans and colleagues by meeting with Trump at Trump Tower in mid-December, posing for pictures and even getting an autographed copy of Time magazine with Trump on the cover as Person of the Year.
Also, while on tour in November, West ended a concert in California early after saying, "I told y'all I didn't vote, right? But if I would've voted, I would've voted for Trump." He was hospitalized for exhaustion soon afterward.
However, just weeks into Trump's presidential term, West deleted all of his pro-Trump tweets, including all those related to his visit with the president-elect. TMZ reported that it was because West has been disappointed with Trump's first actions in office, specifically the Muslim ban.
More: Kanye West Isn't a Fan of Donald Trump Anymore
Caitlyn Jenner
You might think that a transgender woman would be one of the last people to support Trump, but Caitlyn Jenner, former Olympian and reality television star, has put her support behind Trump for over a year and is a card-carrying Republican. In March 2016, Jenner stated on her E! television show I am Cait that, "I think he would be very good for women's issues." She also said of Hillary Clinton, Trump's political rival at the time, "I would never ever, ever vote for Hillary. If Hillary becomes President, the country is over." She also called Clinton "a fucking liar."
However, Jenner's tune has changed since she attended Trump's inauguration in January. On Feb. 23, a day after Trump rolled back protections for transgender students put in place during the Obama administration, Jenner took to Twitter with a message: "This is a disaster."
Well @realDonaldTrump, from one Republican to another, this is a disaster. You made a promise to protect the LGBTQ community. Call me. pic.twitter.com/XwYe0LNUOq

— Caitlyn Jenner (@Caitlyn_Jenner) February 24, 2017

Jenner might not be pulling her support of Trump, but she isn't keeping her criticism quiet, either.
More: Caitlyn Jenner, Literal Trump Supporter, Weighs In on Transgender Bathroom Rule
Jackie Evancho
The 2010 America's Got Talent runner-up made headlines at the beginning of the year by agreeing to sing the national anthem on Donald Trump's Inauguration Day, after most every other singer said no (for context, Beyoncé sang the national anthem for Obama four years ago). At the time, she told The New York Times, "I just kind of thought that this is for my country," and it was unclear whether she supported Trump's political stances (even if her actions implied that she did).
But like Jenner, Evancho became vocally critical of Trump after he stepped back transgender rights legislation put in place by the Obama Administration last year. Evancho, who has a transgender sister, Juliet, also called on Trump to rethink his stance and to meet with her to talk.
. @realDonaldTrump u gave me the honor 2 sing at your inauguration. Pls give me & my sis the honor 2 meet with u 2 talk #transgender rghts ❤

— jackie evancho (@jackieevancho) February 23, 2017
I am obviously disappointed in the @POTUS decision to send the #transgender bathroom issue to the states to decide. #sisterlove

— jackie evancho (@jackieevancho) February 22, 2017

The jury is out on whether Evancho is trying to garner popularity or the spotlight by her political actions and statements or whether she supports the president generally.
More: 13 celebs who refuse to perform at Donald Trump's inauguration — and 4 who agreed
Azealia Banks
Azealia Banks has a reputation for being extremely contrary and aggressive — so it's no surprise that the rapper and actor came out hard for Donald Trump in 2016 when most of her peers were backing more liberal choices. However, since then her stance has shifted and swayed to the point that it's pretty unclear what she really thinks.
Here's a rough timeline: 
In February, Banks hit the stage as well as Twitter to talk Trump up. In a flurry of tweets, she described how he was better than the other candidates, although she also mentioned that we should "put a piece of shit in the White House" because that's what America deserves.
https://twitter.com/AZEALIABANKS/status/694057224281399296
However, when Banks caught wind of Trump's Access Hollywood tape in which he talks about sexually assaulting women, her tune changed, at least temporarily. "I made a major mistake endorsing toupey-toupee. Women's rights are important and we must protect them," she wrote on Facebook.
But of course that wasn't the end of it, either. As recently as the end of February, Banks has been defending the president against all comers, most recently including Rihanna and Lana Del Rey. We're not sure when the singer/songwriter decided not to care about Trump's grab-their-pussies statement, just like we're not sure how a pro-women, pro-LGBTQ person is so enamored with Trump. It may just be that she likes attention and likes being a contrarian more than almost anyone on Earth.
Tom Brady
Legendary New England Patriots quarterback Tom Brady isn't just known for his football career. He is also one of the best-known pro-Trump celebrities in the country. Along with coach Bill Belichick and team owner Robert Kraft, Brady has said he considers Trump a friend and even owns a "Make America Great Again" hat.
However, Brady never officially endorsed Trump and has tried to stay out of the political fray. Most recently, he told PFT Live in mid-February that he supported his teammates' choice not to visit the White House and meet Trump after the Patriots' astounding Super Bowl win.
Meanwhile, the record-breaking footballer's wife, supermodel Gisele Bündchen, has been a vocal about liberal causes, including climate change and immigration (she is an immigrant from Brazil). In one recent Instagram post, Bündchen suggested in the comments that neither she nor Brady supported Trump. You can dig down yourself: 
Has your support of the President changed? Sound off in the comments.
Before you go, check out our slideshow below.