Bachelor: After the Final Rose's Huge Secret Isn't a Secret Anymore
Mar 13, 2017 at 9:53 p.m. ET
Will Nick Viall choose Raven or Vanessa on tonight's season finale of The Bachelor?
Who cares!? (No, really I care, but this news is also pretty juicy.)
Warning: Spoilers about The Bachelor's live special After the Final rose below. Don't continue reading unless you want to know the dirty deets about what the show has in store.
More: Seriously, Hold My Wine — ABC Has Cast Its First Black Bachelorette
The Bachelor has been touting a historic After the Final Rose special during which something will happen that has never happened before. Considering that people have fought, broken up, cried, met the in-laws and set wedding dates all in one special, there isn't much that hasn't happened on After the Final Rose.
So what's the big twist tonight?
Well, the show is ready for Nick Viall to swoop out the door an engaged man and usher in new Bachelorette Rachel Lindsay in all her glory.
Tonight, not only will we get to see Lindsay once again, but we'll also get to meet some of her men, according to Us Weekly.
Now, rumor has it, Viall and his final lady are already off to a rocky start. What would happen if Viall decided to join Lindsay's season? I mean, come on! That would just be fabulously ridiculous.
More: Raven's Response to Corinne's Bachelor Exit Is Basically All of Us
Fifth times the charm, Nick?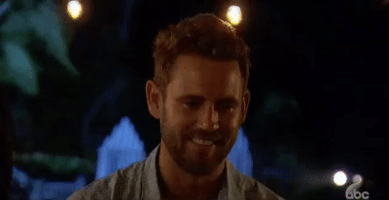 That's totally just my wishful thinking over here.
More than likely, Lindsay's going to get a whole new crop of hunky men ready to steal her heart. Nick who?
Plus, the fact that Lindsay is the show's first black Bachelorette means ABC is getting so much publicity right now that of course they had to find some way to incorporate Lindsay in the After the Final Rose special in a big way. This will definitely get people buzzing.
More: All of The Bachelor's Corinne's Stupendous, Quotable One-Liners
I hope they parade out the guys like a pageant, with Chris Harrison as the MC, "And here's Bachelor No. 1, John Smith, who is 30 years old and a doctor from some small city somewhere where he saves children's lives on a daily basis and loves spending his off time with his five rescue dogs..."
"And here's Bachelor No. 2, Will Williams, who is 32 years old and a lawyer from that big bustling city. Will is a natural competitor. When he's not winning cases, he's drinking a fine wine from his personal cellar or playing football shirtless on the beach."
Oh what I wouldn't give...
Will you be watching The Bachelor: After the Final Rose tonight?
Before you go, check out our slideshow below.