Beyoncé may have flaunted her baby belly at the 2017 Grammys, but now that the performance is down in musical history, she's back to keeping her pregnancy private.
But just because it's private doesn't mean she isn't sharing some intimate details about the twins she's carrying.
More: Jay Z's Long-Awaited Response to Lemonade Isn't Quite What We Expected
In a series of images of Beyoncé released today on her website, fans were quick to point out she was rocking the same pair of earrings she wore in her music video for the song, "If I Were A Boy," leading many to believe the photos were a subtle way to announce that she and Jay Z are expecting twin boys.
This may seem far-fetched — except BuzzFeed was smart enough to point out that Beyoncé is a huge fan of the subtle clues.
For example, here are some of her Instagram pics leading up to the Lemonade reveal…

And a pic leading up to her announcement that she is pregnant with twins…

You get the point. Basically, the odds are pretty good that these earrings serve a bigger purpose than simply going well with Beyoncé's outfit.
More: Beyoncé Shares Sweet Easter Pics of Blue Ivy & Solange (PHOTOS)
Here's a GIF from "If I Were A Boy" so you can compare.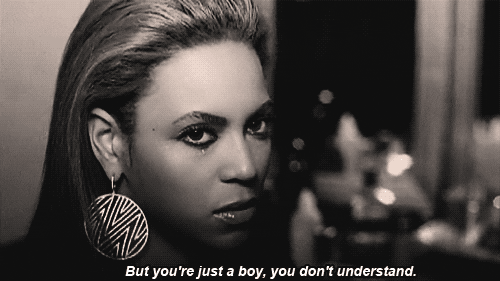 Same earrings, no question.
More: This Is What the World's First Beyoncé and Jay Z-Themed Restaurant Looks Like
Could we all be reaching? Uh, yes, absolutely possible. Maybe Beyoncé just really, really likes these earrings from nine years ago… She just doesn't exactly seem like the type to repeat outfits she's sharing on her website unless there's a purpose behind it.
Do you think Beyoncé's earrings are a subtle clue her twins are boys?
Before you go, check out our slideshow below.