Rayna James [SPOILER] may have died, but the show must go on, as in literally, the show Nashville is still on the air. I know I told you that it wouldn't be worth watching past Rayna's (Connie Britton) funeral—but I was in mourning. We all say things we don't mean when we're in shock. Which seems to be the case since it was just announced that Rachel Bilson will be joining the cast in a recurring role, and I'm totally here for that.
We don't know what her role will be yet, but we can and will delightedly speculate. Does Bilson sing? Will her character be a Juliette mean girl or a doe-eyed Scarlett? Does Bilson have a southern accent? She did drop a hint, posting a photo to Instagram of the Highway 65 logo — Rayna's record label — with a headphone emoji.

Definitely reading into an emoji here, but with the combo of the record label mention and the sound booth headphones nod, might we hope that Bilson's character will be a new recording artist? If so, she's going to have a lot of drama on her hands, because nothing heats up Nashville like some fresh competition (see: Scarlett and Zoey's feud, Rayna and Juliette's feud, Scarlett and Juliette's feud, Layla and Juliette's feud… OK, most of it has to do with Juliette, but you get my point).
More: The Hart of Dixie Conspiracy Theory Is Totally Untrue
Last we saw Bilson, she was Dr. Zoey Hart on The CW's Hart of Dixie — a totally underrated show, in my opinion, that was as much of a satire on the self-seriousness of small town shows (True Blood, Friday Night Lights, Gilmore Girls) as it was its own drama, but with a sense of humor. HOD's fictional Bluebell, Alabama, was about as stereotypically Southern as it gets, with a full antebellum yearly fair, lots of shirtless dudes outside, obsessions with baked goods and plenty of hunting and fishing references. Bilson is clearly no stranger to Southern tropes and accents. But Nashville is a different beast, being based on a real city that takes itself much more seriously. So, here are some tips for Bilson as she goes from backwoods doctor to (fingers crossed) Nashville songstress.
More: 4 Reasons Nashville Kind of Sucks Now
Stay away from Juliette
That girl is deeply unhinged. Fans of the show (myself included) have of course learned to love her over time, understanding that her rough childhood led her to being a catty tornado (literally, she can be a tornado made of cats sometimes). Also, everyone loves a female character who makes them feel a little bit better, or at least more understood, when they knock back a few martinis and then go Snapchat their boobs in the bar bathroom. But Juliette has also has had some great growing moments, like helping Maddie to sing her mother's tribute song after her death and Juliette becoming a mother herself (not to mention becoming a great role model for overcoming postpartum depression). But we've seen a lot of good Juliette recently, so Bilson's character just might be what Juliette needs to come unglued again.
Don't take fashion tips from Scarlett
She will make you dress like a sad fairy princess who lost her kitten and probably make you get a matching hemp hippie necklace with her — as seen below — which she always has on, and I'm always really worried about what it smells like.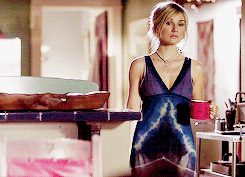 Also, stay away from Deacon
I know he's all sad and "I lost the love of my life, I don't even know if it's raining outside or not," but like I said before, Deacon could teach one of those internet master classes on being a fuck-up. He could out-fuck-up Hulk Hogan and Sean Spicer put together. He is the human equivalent of a drunk advertising mascot. And nothing would be more Deacon than to rebound from his dead wife with the new singer at her label. Not only would that be a bad look for Bilson's character in an ever-gosspy town like Nashville, but once you have sex with a Deacon in mourning — who may or may not also fall off the wagon (again) — I think your vagina just turns into a rain cloud that you have to mist daily or it floats away.
More: Celeb Bump Day: Rachel Bilson, Christina Ricci, Stacy Keibler, Ginnifer Goodwin
Please don't sing at the Bluebird
The show Nashville is obsessed with keeping the real Nashville's Bluebird Café alive. It's really… cute. But in reality, that place hasn't been the mecca of songwriting and legend that the show portrays it to be since the '90s. It's in quite literally the worst part of town. It'd be like if the club that everyone wants to sing at in New York City was in the basement of a Times Square Applebee's. There are just bigger, better and more historical places to play in town. And no one's gotten their start there since Renée Zellweger and Kenny Chesney's marriage — and we all know how that ended.
Are you excited that Rachel Bilson is joining the Nashville cast? Let us know in the comments below.
Before you go, check out our slideshow below.