Get ready to freak out because a new Game of Thrones Season 7 teaser has dropped. It's a short clip, but it's explosive if it is implying what I think it's implying: Things are going to get wild in Westeros.
More: Don't Mourn Game of Thrones' Series Finale News — It's Actually for the Best
So, Huffington Post picked up a teaser distributed by Watchers on the Wall, the premiere source for all Game of Thrones-related news. HuffPo quickly lost their shit over the new teaser, as did I — an eternal Game of Thrones fangirl — when I saw the mere seconds-long teaser. It was simple. It was ominous. It was effective.
The only thing happening in the teaser was the great close-up of Oathkeeper. The sword, known for its distinctive hilt, is currently in the care of Brienne of Tarth on Game of Thrones. The teaser implies that it may be changing hands soon, as the hand grasping the sword was a bit more freckled and pudgy than Brienne's hand. While it's easy to believe that this teaser is footage taken directly from Season 7, something seems a bit off to me.
The biggest clue that I think this teaser is really just a behind-the-scene clip of a props master handling the sword is the hand holding Oathkeeper as well as the presence of a sharpening wheel, which is blurry and in the background of the shot. This feeling that we're simply seeing a prop rather than actual footage is supported by the fact that the phrase "In Production" flashes on the screen before the clip begins.
That said, there are few ideas circulating as to why Oathkeeper would play such a prominent role in the only piece of new Game of Thrones material currently circulating on the internet. While each of these few theories is viable, the teaser just doesn't seem to back them up. But, let's just throw them out there for the hell of it and see if anything sticks, shall we?
More: All the Parts of Cersei's GoT's Prophecy That Haven't Been Fulfilled — Yet
Brienne of Tarth is in trouble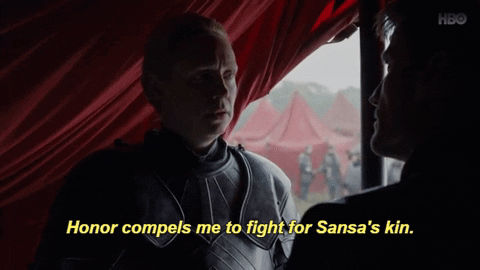 Brienne was gifted the sword by her secret best friend Jaime Lannister, the original owner of the sword, which had been forged from a sword once owned by the Starks. In Season 6, when Brienne attempted to return the sword to Jaime, he told her to keep it. My feeling is that if Oathkeeper is coming back in Season 7 and it's being shown prominently in this teaser, then Oathkeeper may find a new owner in Season 7. For Brienne, this could spell big trouble and maybe even death.
Oathkeeper is Lightbringer & that means we may know who ends up on the throne
One Reddit user pointed out that Oathkeeper could be Lightbringer, the sword used by the prophesied Azor Ahai. Now, the mythology behind Azor Ahai is intense AF, but basically, this dude upends all devious plotting currently in the works in Westeros and he is the new king. He has yet to appear on Game of Thrones and there are plenty of theories behind Azor Ahai's entrance onto the Game of Thrones stage to keep us occupied. But just know that if Oathkeeper does end up changing hands or even changing form, it could signal that a long-fabled character is about to enter the mix.
More: HBO Might Be Behind the Ridiculous Amount of GoT Spoilers on the Internet
Oathkeeper is a symbol of change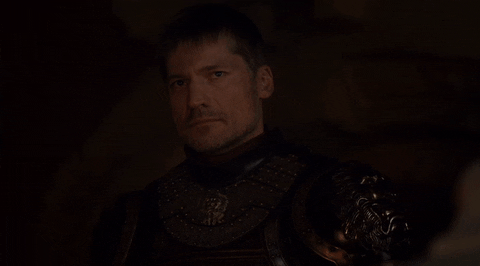 Rather than Oathkeeper literally heralding change, the sword could simply be an omen of big changes and battles that will be fought to bring about that change. Now that the sword is out of Jaime's hands and in the hands of a character who has sworn themselves to the Starks' service, we could read Oathkeeper's appearance as a sign the Lannisters are in trouble. That would certainly be backed up by reports that once Daenerys arrives in Westeros, she will team up with Jon Snow and they could battle Cersei in Season 7.
No matter which way you slice it, though, this new teaser is so tantalizing. What does it all mean? It looks like we'll have to wait to find out.
Before you go, check out our slideshow below.