Justin Timberlake absolutely had the best night at the iHeartRadio Music Awards.
More: Justin Timberlake's Sexiest Moments in GIFs
Timberlake won Song of the Year at the iHeartRadio Music Awards on Sunday night. During his acceptance speech, Timberlake (who was visibly stunned and honored to have won) took time to thank those most important to him. But after Timberlake had finished making sure that he had properly thanked those who had helped make him and "Can't Stop the Feeling" the success that it is, he took time to explain why the song was created and what he had hoped to achieve in writing it.

"I wrote this song because I wanted it to be about inclusion, about being together. And so, I guess I want to take this opportunity right now to speak to young people right now because there's a lot of you looking at me. If you are black or you are brown or you are gay or you are lesbian or you are trans or maybe you're just a sissy singin' boy from Tennessee: Anyone that is treating you unkindly, it is because they are afraid or they have been taught to be afraid of how important you are. Because being different means you make the difference, so fuck 'em."
More: So, Do Ryan Gosling & Justin Timberlake Actually Hate Each Other or Something?
Can I get a "hell yeah" up in here? You guys, this is amazing. This is miles above and beyond the best things that Timberlake has ever done or said, especially at any award show. Timberlake always knows how to lighten the mood, that's for certain. Yet it was his connection of lightness and empowerment to communities that needed it the most right now that made the speech above and beyond. Timberlake's positivity has always been pretty infectious; his iHeartRadio acceptance speech just became the cherry on top of the Timberlake positivity sundae.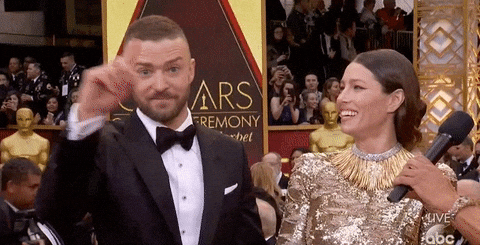 More: Drunk Justin Timberlake Hilariously Puts Paparazzi in Their Place
I can't stop the feeling of joy you just gave me, Timberlake, but honestly, I kinda love it.