Last month, Rihanna was "on her Amelia Earhart shit" for February's Harper's Bazaar.
And this month, she's back in print, giving us a uniform for the Resistance in her #BreakTheRules-themed Paper Magazine March cover shoot.
More: Rihanna Is So Not Down With DrayLo
On the surface, the photographs are an aesthetic accomplishment all on their own, with RiRi serving the kind of futuristic, glam, punk rock vibe that's been a street style staple for years and is finally seeping onto runways as well.
More: Drake and Rihanna's On-Again Relationship Status Is All but Confirmed
I really love Rihanna, guys
The shoot is also a nod to Rihanna's undeniable ability to morph from look to look, be at the forefront of fashion and not give any fucks. She is the queen of not giving fucks. She gives fewer fucks than me, than you, than the queen of England. And she always looks immaculate doing it. Not to mention that ANTI was one hell of a record — dynamic, sexy and innovative all at once — and in my opinion the worst snub of the Grammys this year. But she shaded them back, doing shots from a flask through the whole show.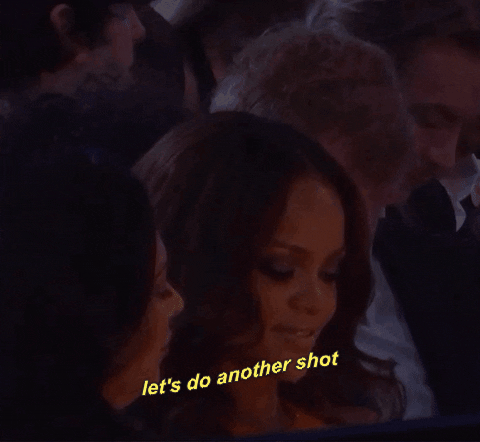 (Seriously, though, how cool Rihanna is should be the only argument necessary for legalizing weed.)
But also…
The Paper shoot wasn't just fly; it was also a fiercely executed political statement. Rihanna made a nod to that fact herself today about how one look in particular, in which she sports green spiked hair, is reminiscent of a certain green statue we all know quite well.
More: Drake Might Be Sweet-Talking Rihanna Big Time, but She's Not Buying It
It's pretty clear how Bad Gal RiRi feels, and a mega celebrity, who also happens to be an immigrant, posing with a Statue of Liberty-styled look is a powerful statement.
Rihanna has been very vocal on her Instagram account as well (which should get the award for best celebrity Instagram account) about the current political climate and growing Trump-spurred animosity toward women and black, immigrant, Muslim and LGBT communities. She posted in support of the Women's March. She also posted a sign that said "I'm Black Every Month" on the first day of Black History Month. And shortly after the immigration ban was announced, she posted this perfect middle finger of a photo:
But also there is another brilliantly subtle but overtly powerful statement in the photos, and that's the fact that she's posing in a bodega. Bodegas are not just sanctuaries where you can get cheap, delicious food, beer and novelty items and often pet a cat. Bodegas are becoming increasingly political spaces. After the immigration ban, bodegas, traditionally immigrant-owned institutions, staged a strike to draw awareness to the importance of immigrants in our country. The gals of Broad City put up this rad statement backing the strike:
And Abbi and Ilana definitely know what's up:
So, if you're catching my drift, resistance is in — and if you were looking for a Resistance style guide, Rihanna just served you one… hot.
Before you go, check out our slideshow below.