So, Jamie Dornan is kinda persona non grata in my book after his slightly awkward moment with Fifty Shades Darker co-star Dakota Johnson. Listen, your good looks will only take you so far, Dornan; you can't just go throwing my girl Johnson under the bus at the 2017 Oscars and expect to get away with it.
More: Most Talked-About Looks on the 2017 Oscars Red Carpet
Dornan and Johnson took to the Oscars stage to present when things got awkward pretty quickly. Johnson took a moment to turn to Dornan and quietly joked, "You look familiar." Dornan calmly wagged his eyebrows and said, "Yeah, I know."
Uh, Dornan, it's called "repartee." Participate, please. The cameras are actually turned on. We can see and hear you.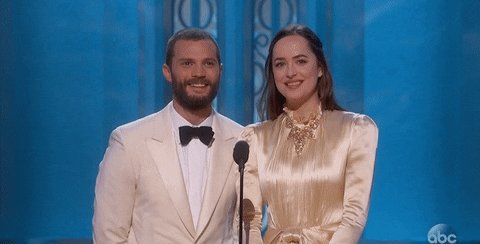 More: The Best Part of the Oscars Red Carpet Was Justin Timberlake's Photobombs
Johnson valiantly kept cool and plowed on while Dornan dissolved the tension as they followed the script. But wow, you'd think that after spending months together filming maybe one of the steamiest, sexiest films of 2017, Dornan would add least be able to banter around with Johnson a little bit better without coming across like he's so over it, no?
More: Give Auli'i Cravalho an Excedrin & an Oscar Because She Crushed Her Performance
Praying for you, Dornan.
Before you go, check out our slideshow below.