"She just got nominated for an Emmy for that speech," 2017 Oscars host Jimmy Kimmel joked after Viola Davis' truly amazing acceptance speech. Davis' acceptance speech for the Best Supporting Actress Oscar proved that not only is she worthy of winning but damn, she can give a hell of a speech.
More: Meryl Streep Gets Standing Ovation for Her 'Lackluster' Career
Davis looked awestruck when she took the stage. For the next few minutes, she proceeded to give her thanks, express her awe, state what this role and Fences meant to her and enlighten the audience as to why she chose to become an artist. She apparently delivered the speech without notes.
She began with, "There's one place that all the people with the greatest potential are gathered. One place — and that's the graveyard. People ask me all the time, 'What kind of stories do you want to tell, Viola?' And I say, 'Exhume those bodies, exhume those stories — the stories of the people who dreamed big and never saw those dreams to fruition. People who fell in love and lost.' I became an artist, and thank God I did, because we are the only profession that celebrates what it means to live a life."
More: The Best Part of the Oscars Red Carpet Was Justin Timberlake's Photobombs
I mean, I'm breathless and left with chills just rereading those words, but to hear Davis speak them (admittedly with a tremble of honor in her voice) made from some truly great television. How is it that Davis always knows exactly what to say? And how does she manage to say it so poetically and eloquently?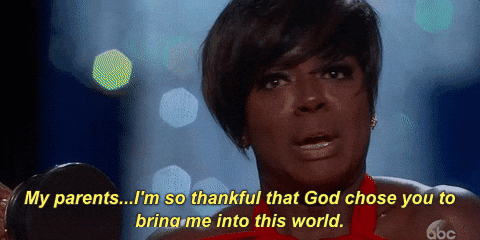 Davis also — incredibly, gobsmackingly, etc. — became the first black actress to win an Oscar, Emmy and Tony for acting. Ever. In the history of the respective awards. Is it too soon to start building a shrine to Davis' glory?
More: All the Times Women Made TV & Film History Dating Back to 1915
I think it's safe to say that Davis absolutely deserves her Oscar, and from here on out, we should bring her on stage whenever a speech needs to be made. She nailed it.
Before you go, check out our slideshow below.