The White House felt the need today to let us all know that Donald Trump won't be watching the Oscars because he'll be busy being president.
"I think Hollywood is known for being rather far to the left in its opinions, and I've got to be honest with you, I think the president will be hosting the Governors' Ball that night," White House press secretary Sean Spicer explained. "Mrs. Trump looks forward to putting on a phenomenal event. And the first lady's put a lot of time into this event, in welcoming our nation's governors to the capital, and I have a feeling that's where the president and first lady are going to be focused on Sunday night."
More: Rosie O'Donnell's Poem About Ivanka Trump Is Actually Really Powerful
Let's be real, Trump may not be watching, but the odds of him letting the event go without at least a snarky tweet or two are slim. He may be president, but he's never too busy for Twitter.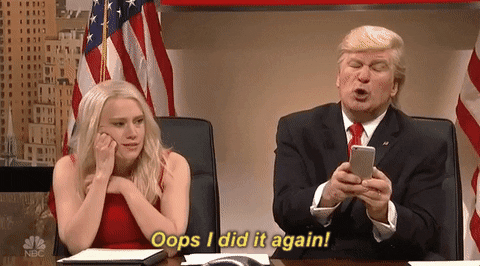 Not only does Trump have a history of hating on the Academy Awards…
… He has a history of hating on Hollywood and A-listers in general.
Right, because as a former reality star he's so much more relevant.
More: Oprah Winfrey Might Actually Have a Plan to Take Donald Trump Down
I get that Trump has important things to do as president. I can also understand that he wouldn't want to watch the Oscars and subject himself to the roast that will probably befall him for a healthy portion of the show. Not just because Hollywood is generally more "left in its opinions" but because we all need a little to laugh about right now when looking at the White House.
Needless to say, Trump might not be watching, but I'll absolutely be tuning in and loving it.
More: Chelsea Clinton Just Became Our Favorite Donald Trump Troll
Do you plan to watch the 2017 Oscars on Sunday night?
Before you go, check out our slideshow below.