I genuinely love Kim Kardashian West. She is literal goals. Her life, her career and her family all make me swoon. So color me confused AF when I saw Kardashian West in a sweat suit on Snapchat during one of her early morning workouts. You OK, girl?
More: Kim Kardashian Has the Perfect (Naked) Response to Slut-Shamers (PHOTO)
During one of her early morning workouts, Kardashian West (ever the keen Snapchat user) didn't tarry a moment when it came to documenting her outfit. Well, it was a outfit in the sense that it covered her body and looked pretty cool, but I'm not sure Kardashian West would have been caught dead in it outside the gym. It was a sweat suit. No, not the cute kind that makes you look like Paris Hilton in 2004 or an Olympic gymnast in the 1980s. It looked like a black plastic garbage bag but #Fashionable. Gosh, it makes me break out into the sweats just looking at it.
In the Snapchat, Kardashian West documents the bemused reaction her trainer had to her choice of workout gear. "Don just called me Missy Elliott. Look it, I'm wearing a full sweat suit 'cause I gotta lose this extra, like 7 pounds." Excuse me? You need to lose 7 pounds? How? Why? I'm absolutely gobsmacked and I think it would be fair to say I'm not the only person who would feel that way when looking at Kardashian West.
More: Kim Kardashian Wins the War Against Fat-Shamers With Simple Response
Frankly, Kardashian West is looking damn fine these days (as she has always looked, mind you) and there's no reason she should be pulling a Regina George and trying to nit-pick her weight. Madness, I tell you. Madness.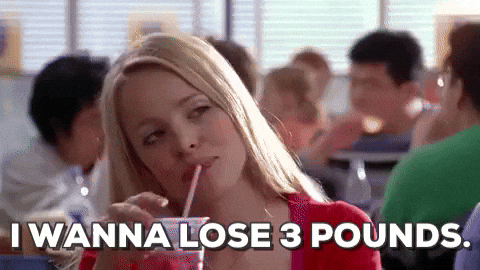 More: There's Been a Major Breakthrough in Kim Kardashian West's Robbery Case
You do you, Mrs. Kardashian West. You are currently living better than most of us could dream of living; don't let a few dumb pounds stand in your way of your pursuit of happiness.
Before you go, check out our slideshow below.