To start, it must be said that there are spoilers ahead, so don't read this unless you watched last night's episode, blah, blah, blah. OK, now that that's out of the way… let's talk about Brooke Williamson's comeback! Come on; of course we all knew she'd dominate Last Chance Kitchen and join the three remaining cheftestants in Guadalajara. And when she did, she not only won the Quickfire Challenge, but she also made probably the best strategic move of her entire Top Chef career: pair up John Tesar with Katsuji Tanabe for the Elimination Challenge.
More: Top Chef's Brooke Williamson Spills the Beans on Shirley Chung's Sleeping Habits
That's right, you guys — our favorite dysfunctional couple reunited and it did not disappoint. Because, really, the entire time we were all wondering if Tanabe would sabotage Tesar.
And the best Tanabe moment? When he basically predicted Tesar would be going home.
Yep, Tesar went home. I'm not about to put this off any longer; let's get to what Tesar had to say about the elimination, Tanabe and this season.
SheKnows: Were you surprised by your elimination?
John Tesar: Yes, I was. I don't think I should have gone home last night, and I stand behind my dish and my drink, but that's the way the Top Chef cookie crumbles.
SK: What was it like working with all the judges on the show? Who's the most intimidating?
JT: I love all the judges on the show, especially Gail Simmons. I find her to be very sweet and honest. Tom [Colicchio] is an amazing person and even more amazing as a chef. You have to respect his opinion. He can be sarcastic at times, but he makes me laugh. Padma [Lakshmi] by far is the most intimidating because of those incredibly intense model stares, and she is the one that tells you to pack your knives and go home.
SK: Which contestant do you think deserves to win? Or who are you rooting for?
JT: I'm always rooting for Sheldon [Simeon]; I'm one of his biggest fans. I'm also very fond of Brooke [Williamson] and Shirley [Chung]. I'm really afraid of Brooke, but Sheldon is my man.
SK: Who did you consider your biggest competition?
JT: The three that are left I've thought from Day 1 were the ones to beat this season and also the most talented.
SK: Was there anyone on the show you really clashed with? Who was it and why?
JT: Katsuji and I clashed, but we also became friends. From conflict also comes friendship.
More: Top Chef's Katsuji Tanabe Has One More John Tesar Burn Left in Him
SK: What's one thing that happened behind the scenes viewers didn't get to see on the show?
JT: How nice I really was behind the scenes and how much shit I took from Katsuji every day. I'm actually nicer than I was on the show.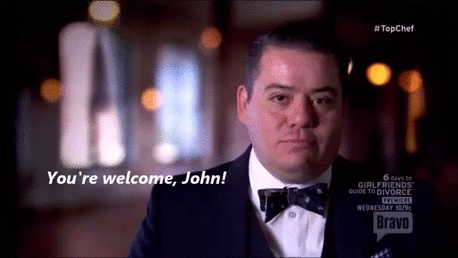 SK: Who do you think deserved to go home on last night's episode?
JT: I'm a chef on the show not a judge, so I have my personal feelings. However, I respect the decision of the judges despite my personal feelings. I really don't think I should have gone home. C'est la vie.
SK: What was the best experience you had on the show?
JT: The best experience was being able to do the show again. I would go back and be a judge or be on all-stars.
SK: What was the biggest challenge for you on the show?
JT: For me, the clock is always the biggest challenge. I don't like to do things that quickly or under pressure, I like to take my time, be meticulous and think them through. Cooking under time constraints often makes me nervous
SK: Who's your favorite Top Chef contestant of all time and why?
JT: Sheldon is my favorite of all time. He's super-talented and super-sweet and has a bit of sunshine around him at all times. He helped me through some emotional times during the show. Both as a fan and as a contestant, Sheldon is by far my favorite, and I especially love his kids.
More: Katsuji Tanabe & John Tesar, Listen Up: Top Chef's Sylva Senat Has Words for You
Before you go, check out our slideshow below.