You guys, Trump hasn't even been president for a full month yet, and I don't know about you, but I'm fucking exhausted.
More: Oprah Winfrey Might Actually Have a Plan to Take Donald Trump Down
I mean, shit. I'm not even American! I'm from the land of "Joe" Trudeau and maple syrup, sitting up here in my toque watching the shit show down south like: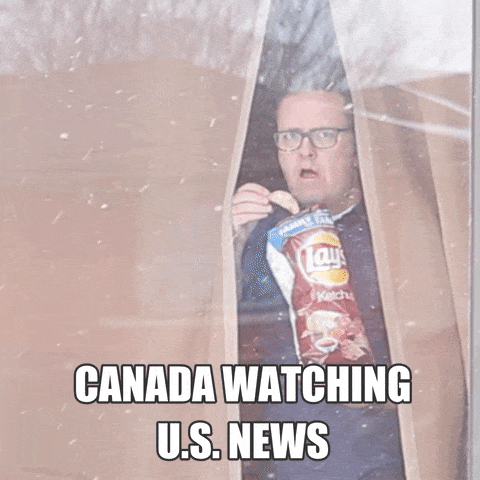 But fuck, things are depressing no matter where you are. And um, honestly? It's getting kind of hard to keep up.
Like, I'm trying to have a whole life here, but every day I have to educate myself about the latest fuckery engaged in by the Trump administration, watch an increasingly dead-eyed Kellyanne Conway half-heartedly fumble her way through the day's latest alternative facts and learn whose ill-advised political appointment we're protesting now.
I can't take much more of this and again, it hasn't even been a goddamn month!
This may have been why I started weeping when I watched this video.
https://youtube.com/watch?v=b-xScLIevw0
If you're not bawling right now, you have no soul.
Produced by the Ad Council, the video features the kiss cam, a cheesy staple at many stadium sporting events. This kiss cam, however, is different.
As the kiss cam's heart is superimposed over a man and a woman sitting next to each other, the man gets an awkward smile on his face before leaning over to kiss his partner — the man sitting on the other side of him. The crowd registers a brief moment of surprise and then spontaneously erupts into cheers.
More: Gay Couple Caught on NHL Kiss Cam Gets Overwhelming Support
And it doesn't stop there. This kiss cam is on a mission to celebrate love in all its forms — without labels.
The camera settles on other couples — biracial, homosexual, disabled and from different ages and religious backgrounds. Music swells in the background as each pair smiles and embraces… some kiss for the camera. The crowd breaks into applause when they watch the camera focus on a lesbian couple — one of whom wears a T-shirt indicating she is a survivor of the Orlando shooting.
I started sobbing as I watched. This is exactly what I needed right now. This is what we all need right now.
This video, this wholehearted celebration of pure love, needs to be shown after every nonsensical Trump press conference as the ultimate palate cleanser for our exhausted minds and defeated spirits.
More: 55 Quotes About Love That Are Way Too Real
It needs to be shown after every ignorant statement about immigrants, people of color, women and every other minority group Trump has targeted during his short tenure in politics.
We all need to be reminded how happy love makes the two people in it and those fortunate enough to be witnessing it too. We need to show different forms of love to our children and absorb the meaning of that love. We need to watch this video on the daily to remind ourselves what we're fighting for, what we're protesting for, who we're doing this for.
So yes, it's been less than a month and we are all exhausted by the never-ending shit show unfolding in the White House, but let's not ever lose sight of this simple message: Love has no labels. No religion. No disability or race or creed or gender.
Love is love is love is love.
Persist.
To learn more about the Love Has No Labels campaign and take an interactive quiz to evaluate your own bias, click here.
Before you go, check out our slideshow below.