Sports Illustrated is shaking things up by releasing their most inclusive Swimsuit Issue yet, and starting an Instagram campaign for women to boost self-esteem with their director leading the pack.
Feminism can be a lot for men to handle, especially in today's mobilized resistance era. It's not just trendy now to be pro-women, but a crucial part of life in this President Trump world. A lot of feminism is targeted toward changing the way men perceive women and thereby changing how they expect us to live our lives.
More: Meet the gorgeous model who's the oldest to appear in Sports Illustrated
But if the Suffragettes, the reproductive warriors of the Second Wave and today's Women's Marchers are proving anything, it's that women don't need men to liberate them, we can do it ourselves. And if anyone is quite literally embodying that philosophy, it's Sports Illustrated Swimsuit Issue director MJ Day, who just posed in a bikini with her child (get it, Mama!) on Instagram to promote a new social media campaign #WhatIModel encouraging women to fearlessly embrace and share their bikini bodies.
If you don't understand how monumental the issue is, it is estimated that somewhere around 91 percent of women have negative images of their bodies, leading them to take matters into their own hands. Sometimes, that's just (hopefully healthy) dieting and exercise plans, but often it escalates to eating disorders, fitness obsessions and surgery in order to achieve what they see as an ideal. The real problem is where that ideal comes from and how it persists. It's no secret that the triad of the fashion, advertising and modeling industries insidiously perpetuates the unrealistic standard that women bend over backward (sometimes literally) to achieve.
More: Sports Illustrated cover model Ashley Graham denies Photoshop claims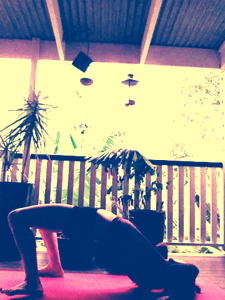 And with the internet armed with trolls who publicly harass women about their weight, especially those in the spotlight (book recommendation on said topic: Lindy West's Shrill), you have a problem that is hard for women to even try to escape.
It's certainly one of America's most serious issues, and with cities like London banning ads that promote unhealthy body images in their transport systems, we're certainly not on the forefront of course-correcting. It's also a whole issue in and of itself that women who aren't a size 0 are considered "plus-size" in the fashion industry and that only a few of those with that title forced on them ever reach supermodel fame and success. But thankfully, a handful of supermodels like Robyn Lawley and Erica Jean Schenk have been helping to redefine and reeducate both consumers and the industry, and with companies like Dove starting their Real Beauty campaign that featured women who don't fit the industry's size 0 and white status quo — strides are being made.
Truth: It hasn't always been this way
Sport's Illustrated's Swimsuit Issue has long been the stuff of feminist nightmares — splaying women out specifically and exclusively for the male gaze, and then only women who meet a very narrow definition of beauty. But regardless, the issue has sold like hotcakes and appearing in it is a huge career opportunity for models. So the fact that they are not just changing directions, but using this issue of the magazine as a platform to promote a cultural dialogue and shift, is a huge step in the right direction. Day's post admits that she "has never felt truly comfortable in a swimsuit," and invites every woman, instead of feeling shame, to "love ourselves in the present." The official campaign announcement admits that this year's issue is "the most inclusive ever, and features women of various ages, backgrounds and body types." In collaboration with Health Magazine and @WomenIRL (an Instagram community) they go on to announce that they're "celebrating this vision of beauty and confidence in our feed…in our swimsuits."
This move falls in line with how a lot of men's magazines are trying to update their voices and portrayals of women for the 21st century — like when Playboy announced last year that they would no longer publish nudity (which they've already reversed, calling the decision a "mistake…"). And it is truly refreshing to see avenues that have not always provided a progressive platform for women finally doing so. It does need to be said that it's a little problematic that in order to promote the sale of their magazine issue, Sports Illustrated is asking women to strip down on social media using their hashtags (#WhatIModel, #LoveYourSwimsuit, #WomenIRL), but Day did somewhat address this by both being the first to bare almost all and leading her post with, "Deep.Breath. If I am going to talk the talk I am going to walk the walk." Cheers to the beginning of what is hopefully a new era of body positivity and its representation in advertising and modeling.
More: Former model slams Sports Illustrated for celebrating women of all sizes
Are you going to post your swimsuit video? Let us know in the comments, and you go girl!
Before you go, check out our slideshow below.