Happy #SinglesAwarenessDay. Yup, it can definitely suck. But as someone who spent many a Valentine's Day shoving a heart-shaped box of assorted chocolates into my mouth while binge-watching Sex and the City, let me tell you, Amber Rose has got this whole holiday down.
More: Amber Rose: 11 More Interesting Instagram Posts Than Those Near-Nude Pics
Rose and Blac Chyna may be known for their dramatics, but when it comes to each other, they're positivity and girl power all the way. And in the midst of Rose's recent breakup with DWTS pro Val Chmerkovskiy right as Valentine's Day comes crashing into our life with it's explosion of pink, it looks like Rose is leaning on that friendship more than ever.
She's taking some time with her girls, and no, I don't mean the perky twins she's also showing off in the pic.
https://www.instagram.com/p/BQeJgk_DUS4/
"We are always there for each other through thick and thin no matter what people say about us," Rose captioned the photo. "We're lovers, we're fighters and we're extremely strong women. Often misunderstood from the public but fuck it if there's any person in the world that understands me it's her."
More: Amber Rose's Bikini Pictures Prove She's Got a Bigger Butt Than Kim K (PHOTOS)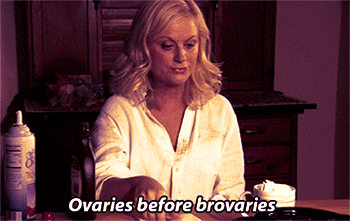 I don't think Chyna and Rose are spending Gal-entine's by sitting at home and eating bonbons, though. Nope, Rose is having none of that.
In a separate Instagram post, she set the record straight about where she and Chmerkovskiy stand post-relationship.
More: Amber Rose & Val Chmerkovskiy Toned Down Their PDA for a Kiss Cam
"[Val] and I broke up due to our own personal reasons but we still care about each other tremendously and we love each other's families even more," she explained. "So please understand that we are all human and we have feelings too. Nobody got dumped and nothing we do over here is malicious it's just how life works sometimes."
Here, here! Now go get yourself some pinot noir and settle in for some Sex and the City next to Chyna.
Before you go, check out our slideshow below.