The end of The Vampire Diaries is quickly approaching. There are only four episodes remaining, which means theories about its ending continue to run wild.
More: Will Bonnie Have to Die to Bring Elena Back for TVD's Final Episode?
On Monday, a short teaser for the series finale was released and it featured the return of Nina Dobrev as Elena Gilbert herself. Not only is there a short glimpse of her staring at a high school trophy case, but she's heard questioning, "What happened? Why am I here right now?" That's exactly what most viewers are wondering too.
As all die-hard fans know, Dobrev will be back for the last episode, but what's in store for her character is unknown. However, this tiny promo might've given a major clue away about Elena's return.
Many are speculating that if and/or when Elena wakes up from her magical coma induced by Kai, she'll have no recollection of anything that happened. That's right; there are some who believe Elena will lose most of her memories and will only remember things from before she met Stefan and Damon Salvatore.
https://youtube.com/watch?v=1dezvDso_MI
According to one Twitter user, she tweeted, "NEW #TVD FINALE THEORY: Elena was aging backwards the whole time and wakes up a human teen." She then added after a different user said she thinks Elena has lost her memories, "There's definitely something off. Maybe they took her memories back to before she met the Salvatores? Hmm!"
More: Nina Dobrev Announces Vampire Diaries Exit With 23 Photos and Sweet Message
NEW #TVD FINALE THEORY: Elena was aging backwards the whole time and wakes up a human teen.

— Lauren Cox (@Iaurencox) February 13, 2017
there's definitely something off. maybe they took her memories back to before she met the Salvatores? Hmm!

— Lauren Cox (@Iaurencox) February 13, 2017

What? How the heck is something like that even possible? Of course, TVD is capable of anything. It is also a supernatural series, so the possibilities are endless. As teased in the promo for this coming Friday's episode, Kai is back and offers to help kill Cade and bring back Elena.
Well, both of those are great, but regarding Elena, the last fans knew, the only way to bring her back was to have Bonnie die. So is there another way for Kai to wake up Elena and keep Bonnie alive? Maybe the catch is in order to keep Bonnie alive and kicking and simultaneously bring back Elena, the beloved Gilbert will have to sacrifice all of the memories she made as soon as she met the Salvatore brothers.
But would the series really do that to fans? Would they really bring Elena back and have her forget about every single thing, event and person she met from the time she was in high school and first came face-to-face with Stefan?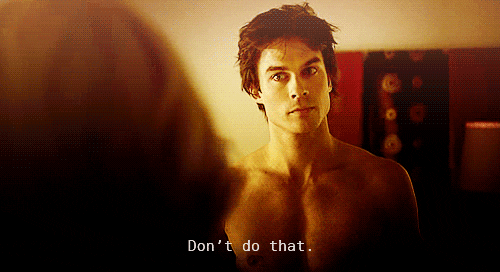 That's not only crazy, but also kind of heartbreaking. If you think about it, it would be kind of cruel to make Elena forget about everything she went through, including falling in love with Damon. Yeah, if they're destined for one another, they'd probably fall in love all over again, but still. It's like all that hard work they went through to finally realize they're meant to be just went out the window.
On the other hand, Elena did go through a ton of pain and heartbreak, so maybe forgetting all of that would be a blessing in disguise. She could start fresh and basically create a whole new life as Elena. If this were to happen, would Elena wake up still a vampire or a human? Really, there are a lot of factors at play here and things are starting to get complicated.
What makes the most sense for what Elena is saying in the finale teaser is that she's now awake and wondering why and what happened because she probably didn't expect to be awake so soon. Plus, there's a good chance she's a little fuzzy on what's happening because she's been in a coma for so long. Basically, Elena is just as confused as we are right now about how TVD is going to end.
Whatever happens, let's just hope Elena keeps her memories, especially of Damon, and finally gets her happy ending. We're trusting TVD not to disappoint and deliver on an epic level.
The Vampire Diaries series finale airs Friday, March 10 at 8/7c on The CW.
More: The Vampire Diaries Spoiler: Paul Wesley Reveals the Future for Steroline
Before you go, check out our slideshow below.