I only came back from the dead to tell you that Beyoncé performed at the 2017 Grammys. It was transcendent. I died a thousand times.
More: Beyoncé's Pregnancy News Is Great, but Let's Talk About That Photo
Beyoncé not only sang "Love Drought" and "Sandcastles," two deep cuts from her watershed album Lemonade, but she also created an epic introduction video that acted as an art installation before she even took the stage. If you dare, take a moment to relive the gloriousness, but please don't die in the process.
Now, in case you've managed to hold on to your soul, your wig and the breath in your damn lungs, then maybe you will agree with me that Beyoncé's Grammys performance was beyond anything from your wildest dreams. She literally came to slay and, friend, I think she did exactly that. There was no way any of us could have been prepared to witness pregnant Beyoncé sing so beautifully or dance so perfectly, but that is what she did.
More: Blue Ivy Was, Hands Down, the Best Part of the 2017 Grammys
Beyoncé's Mother Nature vibe seemed to imply that she was not only an otherworldly being, but she also somehow invented pregnancy — I mean, maybe she did — which, frankly, is on-brand for the multi-talented singer. There was no moment wasted during her performance, flush with florals and gold and pastel linens, which again gave off a feeling of supernatural wonder mixed with purity of spirit. If I had the time, I'd write a thesis about it because there's just so much to unpack.
I mean, look at this. Can you believe we were alive to see this happen?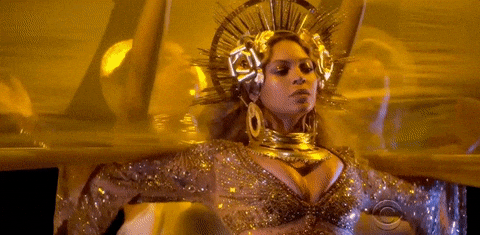 More: Reacting to Beyoncé's Pregnancy Album, as Told by Winona Ryder Reaction GIFs
Beyoncé's performance was truly a revelation. A beautiful, beautiful revelation that will surely become one of the greatest pop culture moments of 2017.
Beyoncé can now officially add Holy Spirit to her resumé. Slay all day, Bey.
Before you go, check out our slideshow below.