2017 is in full swing, and let's be honest, things aren't looking great so far. But a few things have happened that we can cling to for hope.
1. Beyoncé's pregnancy announcement
The world needs a hero, and Beyoncé will deliver not just one, but two, because she is a queen and will not be outdone. The photo shoot by Awol Erizku she used to announce the big news seemed unusual to some, but each picture was based on classic artwork like Botticelli's "The Birth of Venus" and Jan Brueghel the Elder's "Madonna in Floral Wreath."
2. Lady Gaga's delightfully subversive Super Bowl halftime show
Lady Gaga gave one of the best halftime performances since Prince a decade earlier, and the best part — aside from her considerable vocal prowess — were her deep political digs. From singing the first verse of "This Land is Your Land," an anti-establishment protest song, to performing her gay/trans anthem "Born This Way" in front of staunchly anti-LGBTQ Vice President Mike Pence, to dressing her dancers in swirling lavender capes while rainbow lights twinkled around them, Gaga proved how to take your broken heart and turn it into art.
We knew she was a goddess, but we didn't realize she could literally walk on water. At 63 years old, Christie Brinkley has returned to the pages of Sports Illustrated flanked by her 30-year-old daughter Alexa Ray Joel and 18-year-old daughter Sailor Brinkley Cook, and she looks just as incredible as she did decades ago. Definitely gives me hope for the future!
While the funniest skits in the show this season have been inspired by things that in real life are actually pretty terrifying, SNL has risen to the occasion to remind us of what they do best: satirical takes on current events. Alec Baldwin's Donald Trump impression is legendary, and Melissa McCarthy was pretty much born to play Sean Spicer. The only thing that could make it any better would be Rosie O'Donnell playing Steve Bannon.
5. Winona Ryder at the SAG Awards
Stranger Things may have won a SAG Award, but Winona Ryder deserves an award herself for Greatest Range of Emotional Facial Expressions Revealed During Someone Else's Speech. It spawned a thousand theories, but our favorite is that she was hallucinating pizza.
6. George and Amal Clooney are reproducing
Highly respected international human rights attorney Amal Clooney and her husband, some actor who once did a voiceover for South Park, are expecting deeply genetically blessed twins who, hand-in-hand with Beyoncé's twins, will spin the world backward like in Superman so we can reverse time back to Nov. 7 for a redo.
7. The park ranger resistance
If there is anything 2017 has taught us so far, it is to expect the unexpected, and the park ranger resistance is pretty much the exemplification of that. When Trump demanded a total social media blackout of all science-based federal Twitter feeds, the rangers in national parks around the country went rogue, as well as the EPA, Department of Education, NASA, the USDA and a dozen others. There's even an internal White House staffer leaking info.
8. Hillary Clinton's shade-filled Twitter
So far, Clinton has tweeted her support for the Women's March, her disgust at the Muslim ban and her support of Elizabeth Warren in the face of her Senate censure — but her best tweet so far was only three characters, a statement pointing out simply how badly Trump's harsh immigration policy bombed in the court system.
9. #SaltBae
When life needs a little seasoning, just add Salt Bae. Turkish restaurateur Nusret Gokce became internet famous when he posted a video of himself perfectly seasoning his meat, and the first huge meme of 2017 was born.
10. The Love Actually sequel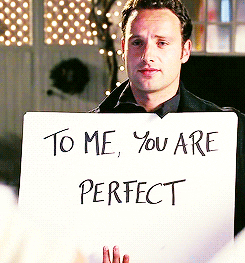 The schmaltziest, and therefore best, holiday movie of all time, Love Actually, is finally getting the sequel it deserves! Sort of. It will only be a short 10-minute catch-up, filmed to benefit Comic Relief, but we will see where all of those beloved characters are today. Red Nose Day Actually will air March 24 on BBC One and on NBC on March 25, 2017.
Before you go, check out our slideshow below.