Lilly Singh is badass and someone who's been missing from my YouTube-sheltered life all these years.
I'll be honest. I'm not hip. Sure, I guess I'm technically a millennial, but I don't get the YouTube generation. I don't watch YouTube videos (unless they involve adorable animals doing adorable things). I don't know YouTube stars. YouTube culture just ain't my thang. Don't @ me. (Or do. I won't see it. I also hate Twitter.)
But Singh — who also answers to the name "Superwoman" — is someone I've recently been introduced to and have come to care about. With more than 11 million subscribers on YouTube (freaking 11 million, people), 2 million followers on Twitter, notable film credits on her resume and a book in the works, her career has just begun.
My first introduction to Singh was at the 2017 MAKERS Conference, where she spoke about her strategy for success, aka shunning the "back-up plan."
"This idea of having back-up plans is ingrained into us to make us believe that that's the smart thing to do, but I'm here today to tell you to only have a Plan A and to eff a Plan B," she said. Singh went on to tell this group of more than 400 women how she focused her energy on her main goal: to make YouTube videos and to make a living doing it.
"I started treating my career as if it was a guarantee, see, because I thought, OK, if things get difficult and things don't work out, I'm not gonna think I have a Plan B, which is grad school, or Plan C, which is an office job. I'm just gonna have a Plan A, a Plan A 2.0, a Plan A 3.0, and that's what I'm going to do. Because entertainment and YouTube are always going to be my Plan A. The only thing that's going to change is my technique and my strategy."
Pretty good career advice, right? People always tell us we can do anything we set our minds to. Well, maybe the real trick is setting our minds to only doing that one thing and refusing to consider failure.
Luckily, we didn't only get Singh's less-than-10-minute spiel. We got to sit down with her to properly peel back the layers that make Singh "Superwoman."
SheKnows: Have you had any hard days while living in Los Angeles and pursuing your dreams? What did that look like, and how did you motivate yourself to keep pushing on?
Lilly Singh: Yeah. It was probably pretty soon after moving to LA. I had just moved away from my family, I was totally alone, didn't know anywhere, didn't know directions, didn't understand traffic. And I got thrusted into pilot season to audition. I was driving to an audition, and I couldn't figure out the parking or the traffic situation, and I was super stressed. And I walked into this audition, and it wasn't the most welcoming atmosphere. I bombed the audition, and the guy was giving me such a hard time just to get through security and get off the lot. And I literally was waiting for someone to pull up my car, I was sitting on the curb like, "Why am I here? This is not for me. I am not cut out for this. I miss home, I miss my family" — and this is actually a really special story, because I was on the curb, literally crying, and a car pulls up, and they're like, "Superwoman?" And it's a car full of my fans that are like, "Oh, my God!"
Literally, my fans came to my rescue and saved the day. They were like, "What's wrong?" and I was like, "I'm having a bad day." And then they were just telling me all the difference I'd made in their lives, and I was like, wow, this has never happened before, this is a sign from the universe. That day, I was super doubting myself and if I was even cut out to live this life, but then the fans came to my rescue. And I think we all have those moments, but every failure is necessary, especially in the entertainment industry.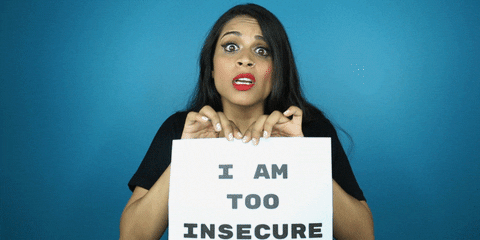 Image: Giphy
SK: 
You do so many things — you're a vlogger, a comedian, an actress, a writer — and you're so successful at them all. What's the next chapter for you?
LS: The next chapter is 50 chapters in my book. This year, one of my main priorities is releasing my book, How to Be a Bawse. It comes out March 28. It's so important to me because obviously, as a digital creator, there's been so much pressure to write a book because so many of my peers have done it. I've been very adamant about saying, "No! I don't want to release a book just for the sake of writing a book. I'm going to write a book when I feel like I have something to say in a book." And now I do feel like I have something to say. The book is a guide on how to not just survive life but to conquer it. And it's based on my life experiences, all the people I've met, all the things I've learned from those people, being in the weird situations that I get in. Like, dressed as my mom kissing Seth Rogen — that's a thing that happened. There's things I've learned along the way, and it's not merchandise. It's something I believe in, and it's something I think will help people. So that's my focus for this year.
More: 7 Things to Know About YouTube Star Lilly Singh
SK: Can you name one person who has really inspired you?
LS: I mean, there's a lot of chapters on Dwayne "The Rock" Johnson because he's been such a mentor to me through my career. There are some chapters about Selena Gomez, there's some about Kunal Nayyar, who's Raj on The Big Bang Theory. All the people I've had the pleasure of meeting — Michelle Obama and whatnot. But even people like my mom or my friends, people I've met in meetings or even people I've met where I'm like, "Ooh, I don't wanna be like that." Lessons I've extracted from all the awesome experiences I've had.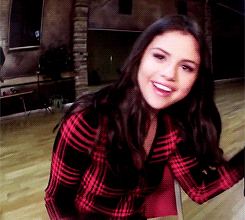 SK: I think for girls right now, a lot of people are battling that self-doubt. What's something you tell yourself when you're feeling self-doubt?
LS: The best way to battle fear is with courage. You have to look at the opposite of fear: Fear is scared of courage. I think, especially in this time in the world, there is very much a choice between fear and courage, and we all have to pick the courageous route. That is the only thing that will work — and making your voices heard. Finding like-minded people is very important. It's hard to be a happy meal in a room full of sad people. You'll never find a happy meal in a sad place. Surround yourself with like-minded, strong people, use your voices and choose courage over fear.
More: 9 Funny Women on YouTube You Need to Subscribe to Today
SK: I imagine it can be pretty draining being a public figure. Is there ever a time you ever need to shut everyone out and have some alone time?
LS: Yes! I mean, you're right, it is super difficult. I won't play that down. I do two videos a week on my main channel and daily vlogs, so it's a lot. But my team knows, I'm a super spiritual person, so every now and then I'll say, "Everyone, get out of my room because I need 15 minutes by myself to just sit alone." I have a chapter in my book called "Pause," and basically, the idea is one of the ways to be successful is to reflect back on your successes and everything you've achieved. And you can't do that if you're still going, going, going, going. So one of the keys to being successful is to pause and reflect on everything you've accomplished so you can use that fuel to keep accomplishing more. Pausing is a big part of my days.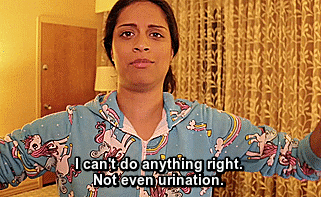 SK: Obviously, you speak a lot to depression and spirituality and how you were raised. Why do you think activism is important, especially for those who have a platform?
LS: I'm kind of twofold on this. On one end, I would never want to change myself to be someone I'm not. I would never say, "I'm going to do these things in a video to be a role model so people make me a role model." I want to be myself. I don't want to go crazy pretending to be someone all the time. But at the same time, if I have the ability to influence people, and we have X amount of energy in the day, it's not even our option anymore — it's our duty to do something positive in the world. I think there's so many things happening, whether it's gender inequality or immigration, there's just so many issues happening around the world where not doing anything makes you guilty. I feel like you have to use your energy, you have to use your resources to help those who don't have a voice. Whereas back in the day, you could say, "I didn't know about this. What was I supposed to do? One person can't make a difference." No, like, none of that's valid. You can make a difference, and you do have a voice.
More: Lilly Singh Nabs Spot on Forbes' 30 Under 30 List
SK: What are your tips for girls or women who are trying to find their voice and they're not certain or confident in what it may be?
LS: Yeah, that's totally cool. Everyone finds their voice at different times in their life. I found my voice when I started doing YouTube videos, and that's when I was pretty old, to be honest. I think it's about exploration. I think it's about trying new things, meeting new people, and also, it's about borrowing inspiration from other people. Because I still have those moments where I'm like, "Oh my God, I'm a loser, what am I doing?" I will schedule inspiration. I will be like, "For the next hour, I will watch the Beyoncé documentary. I will meet inspirational people, read a book, watch an interview, whatever it is." I think you have to proactively seek out things that inspire you and consume as much of those things as possible.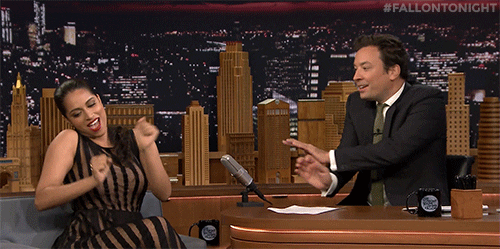 SK: What are some sources of inspiration that you regularly go back to?
LS: I'm a big believer of having a vision board, so I have a vision board, and that's motivating because it shows me all the things I have accomplished and all the things I still want to accomplish. That's a big one. I also watch interviews specifically of people discussing the challenges and adversities they've faced. I would tell anyone, pick the person you love the most, the musician, the actor, public figure, whatever, and watch a bunch of their interviews and find ones where they talk about all the times they've failed, all the times they weren't good enough, and watch those on the regular. It's a very unique type of inspiration. It's almost like spiritual jumper cables for your inner drive.
SK: So, who's your person?
LS: My person is the Rock, like I said. I also watch a lot of interviews with Selena because she's been in the public eye for so long and she's dealt with a lot of critique that I believe is unwarranted, but maybe that's just me being a fangirl. I also reflect back on my mom's journey, someone who was an immigrant to Canada and came not knowing anything and figured it out tremendously. I reflect back on that a lot.
SK: Okay, for real, last question. What is something the Rock has taught you that's made the biggest difference?
LS: One was before I went on tour, he texted me a very long text and said, "Hey, I just wanted to give you tips for your tour. People are gonna be spreading you very thin, you're gonna have a lot of shows back-to-back, you're gonna do a lot of interviews, but the person who will take the best care of you is yourself. You have to take care of yourself." That's something I really needed to hear because I'm a yes person. I say yes to a billion things, and when you're exhausted and you're not having fun doing things, you will not do them as well. It's important for you to take care of yourself. And he was the only one who was real enough to say that to me. The second thing is during his PCA awards, when he won, he said to everyone who was there, "It's nice to be important, but it's more important to be nice." And he practices what he preaches completely. He's just so successful and the nicest person ever.
What's your life mantra? Share it with us in the comments below!
MAKERS is a storytelling platform for the trailblazing women of today and tomorrow. For more information, visit their site here.