Since 1999, Ina Garten has been providing the world with beautiful, elegant cookbooks that have not only given us a wealth of delicious recipes, but also offer a window into her peaceful, idyllic life on the beaches of East Hampton in her perfect cottage with her adoring husband Jeffrey and her amazing squad of brunch besties at her side.
More: These Are the Arguments I imagine Ina and Jeff Garten Have Off Camera
Over the years, she's brought us Barefoot Contessa cookbooks on everything from how to throw the best parties to how you can make delicious meals ahead of time — books that have made my life more joyful and more delicious. But now I have a few ideas for her next recipe collection that I think would really fill out my kitchen bookshelf.
Barefoot Contessa's I Need to Make Dinner But I Don't Have Time to Go to the Store
I really love all of your recipes that call for a stop at the neighborhood butcher, the specialty cheese store and your lush herb garden. However — and this is a pretty big however? — ?sometimes it is 5:55 p.m. and the children are screaming and I have to cook something immediately using only what is in my immediate vicinity. I'm thinking about recipes called "Lunch Meat and Expired Cheese Quiche" and "Soup That Is Just a Mixture of Things in Broth." I know you could make this really stylish and simple, Ina, even when I have nothing to offer but some wilted kale and mozzarella sticks.
Ina Garten's If You Think This Is Hard, Try Writing the National Nuclear Energy Budget
There was a moment last year, as I was deeply struggling to make Ina's mocha chocolate icebox cake, when she looked at me out from the pages of her book and said with her eyes, "I was once a White House budget analyst. I think you can probably figure out how an 8-inch springform pan works." I would love an entire book of these looks and chides. Recipes would include: "It's Hollandaise Sauce, Not a Policy Paper," and "If Jeffrey Can Write a Book About Global Political Economies, Surely You Can Make Risotto."
More: Why all the hate against Food Network Star's Giada De Laurentiis?
Ina Garten's Entertaining Only Yourself Cookbook
So, Ina, you have multiple books about throwing fabulous parties for gobs of your funny, kind, smart and successful friends. That is totally great, and sometimes I reference these books for comfort and company when I am alone in my house drinking wine out of a child's plastic tea pot after my kids are asleep. But I was thinking of maybe a new book in which you show me how to celebrate best when I am alone. I'm thinking of some Garten-tastic mug cake recipes. Maybe some gourmet popcorn. Cocktails for one that utilize nothing but half-empty Capri Suns and vodka? I know your calendar is probably mostly full, but something also tells me that you know how to have a pretty awesome night solo.
Barefoot Contessa's I Know You Just Want to Look at Pictures From my Life
Let's all stop pretending. I'll stop pretending. Garten will stop pretending. The book publishers will stop pretending. The truth is that after 10 cookbooks, I don't need another recipe for lobster pot pie or chicken piccata. I just need you, Ina. Could you just have a photographer follow you around for a couple of days and snap pictures? I want to see you reading a book in a window seat with an afghan draped over your legs. I want to see you walking your bills to the mailbox, stopping to chat with your neighbor, who like all of us, mistakenly thinks that you are her very best friend. I want to see you and Jeffrey folding laundry together, laughing when you each dig into the basket and come up with one half of a matching pair of socks. This isn't too creepy, right?
More: Ina and Jeffrey Garten Have a Pretty Inspiring Love Story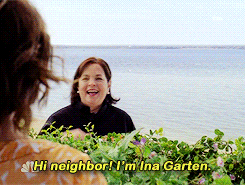 Ina Garten's Guide to Only Wearing Relaxed-Fit Button-Downs for Your Entire Life
OK, this book would also not be about food. But I really must know how Ina has unlocked the secret of only wearing relaxed fit button-downs in her life and always looking perfectly fabulous anyway. Eating a casual breakfast with 10 attractive friends on the beach? A soft, faded chambray button-down will do, no questions asked. Posing in front of the step-and-repeat banner at the latest big event? A black satin relaxed-fit button-down will do marvelously along with a string of pearls and your unstoppable attitude. I can hear you whispering in my ear right now: "How easy was that?"
Before you go, check out our slideshow below.